Na Na Na Surprise dolls are gonna have very cute release in 2021. They are gonna got the first car – Na Na Na Surprise Kitty Sports Car, that is made out of plush. Soft, printed car in cool cat-look rolling tires! Doors can be opened and closed Suitable for small Na Na Na dolls and the big Na Na Na Teens dolls. Car is available now for pre-order with release on February 25, 2021.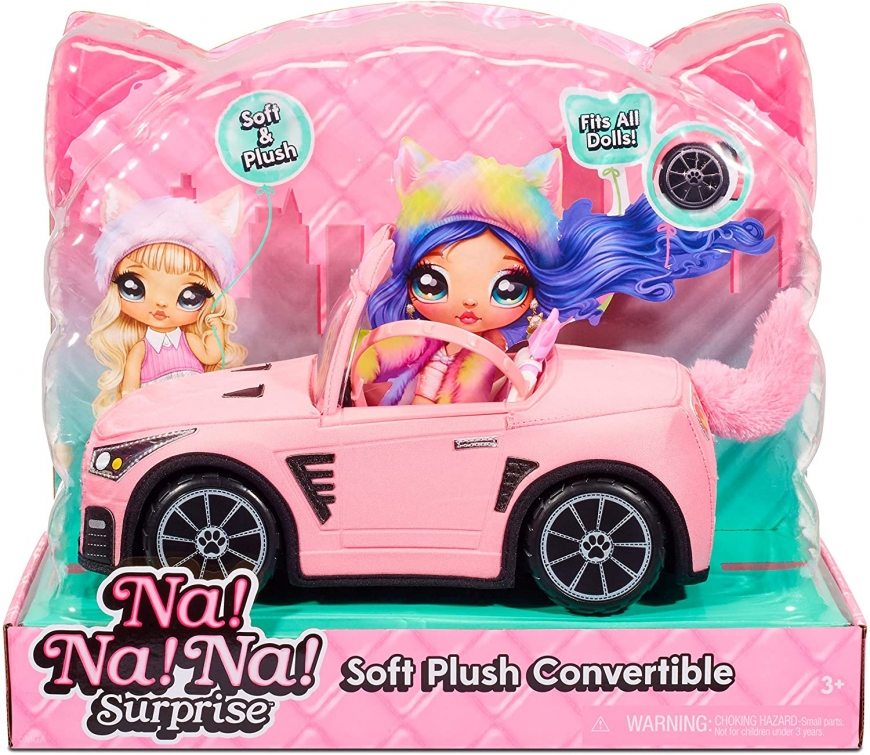 Releade date: March 1, 2021
Price: 29.99$
The car has room for all Na! Na! Na! Surprise dolls: Pom Dolls (approx. 20 cm) as well as Teens (approx. 28 cm).
SOFT, PLUSH CAR FOR FASHION DOLLS: The Na Na Na Surprise Soft Plush Convertible is made of beautiful, soft material covered in printed fabric with exquisite stitched and printed details.
CUTE, KITTY DETAILS: Soft Plush Convertible has cute kitty details including a kitty nose and whiskers, kitty ears on the windshield and a soft, fluffy tail. And all the details of a real car.
Plush seats, wheels that really roll and steering wheel with kitty details. Drive off on a wild adventure with this soft, plush vehicle.
FITS DOLLS OF ALL SIZES: This 1-seat vehicle fits Na! Na! Na! Surprise dolls or Teens dolls.The open top makes it easy to slip dolls (not included) in and out.
TRENDY CAR FOR DOLLS: The stylish pink car is purrfect for those with trendy tastes. It also has glam silver details, MEOW license plate and modern black details.
GREAT GIFT IDEA: Makes a great soft-but-stylish gift for Na! Na! Na! Surprise and doll lovers. Add a little wild style to imaginative play with the kitty-inspired Soft Plush Convertible.
Subscribe if you want to be informed when Na Na Na Surprise Plush car will be released
Facebook