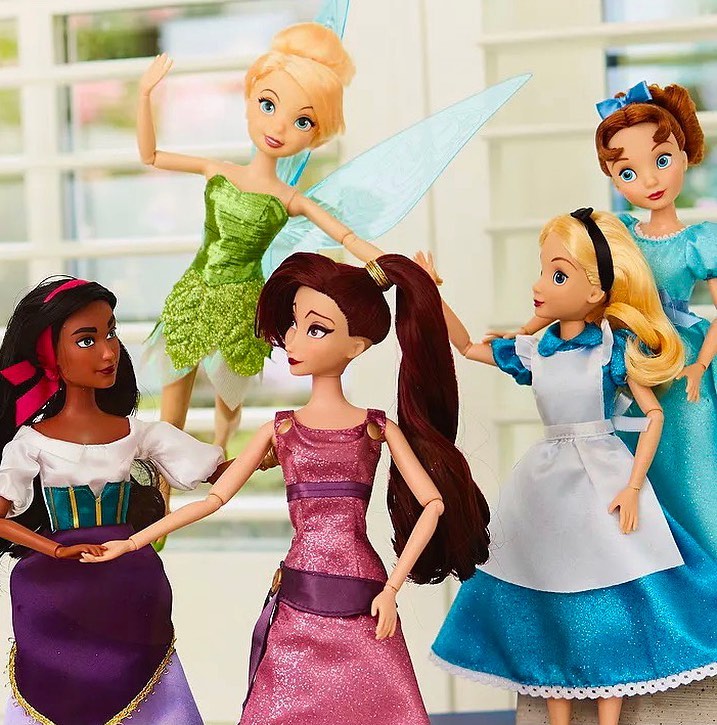 Disney is releasing new Disney Store Classic dolls Esmeralda, Megara, Alice, Wendy and Tinker Bell!

You can get Wendy Classic doll here: https://amzn.to/2C9No6F
You can get Megara Classic doll here: https://amzn.to/30DQFV5

There is no information on the exact dates yet, but they are likely to be released in 2020.
In recent years, Disney fans have been calling for the classic Disney dolls of the non-princessed Disney heroines. In fact, the focus in terms of merchandise is mainly on the characters that are part of the Disney Princess brand (from Snow White to Moana) and of course on the all-present Anna and Elsa by Frozen, but often leaving aside protagonists underestimated but equally loved by a good slice of the audience.

Something started to move with the Midnight Masquerade collection, which included for the first time in the Disney limited edition dolls characters like Esmeralda, Megara and Giselle. And now, as hoped for by collectors, these Disney heroines are also coming in a classic version, that is cheap and more accessible to the consumer.

If you don't have Disney Store in your country the better place to find new dolls is Amazon (they also have official Disney Store dolls) or Ebay: Links.
Subscribe if you want to be informed when New Disney dolls will be released
Facebook