Third doll in new Barbie Rewind 80s edition 2021 collection. New doll is inspired by retro aerobics look. She is dressed in bodacious spandex bodysuit and legwarmers, and comes with cute accessories.
Doll has VHS-themed packaging.



Barbie Rewind 80s edition Workin' Out doll





Inspiration from 80s - Great shape Barbie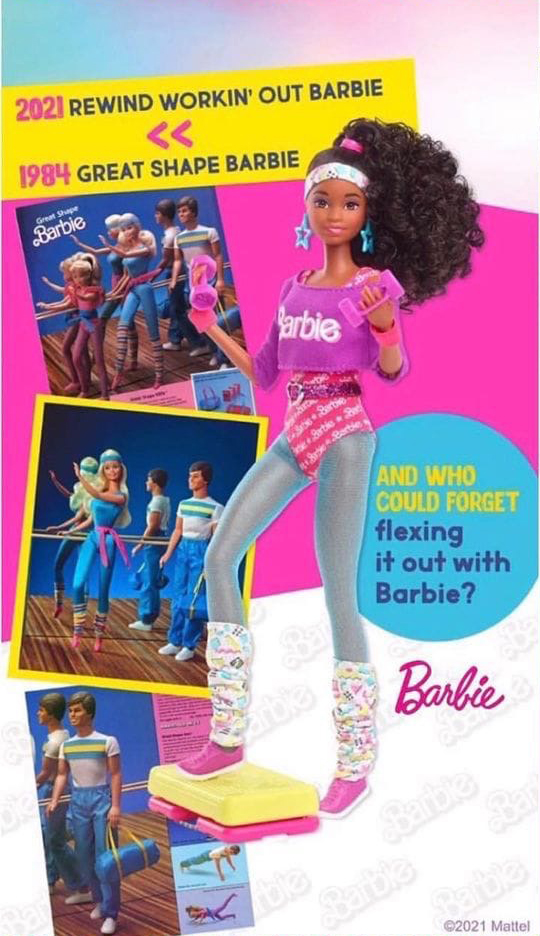 The Barbie Rewind series launches with the 80s Edition, a totally tubular throwback collection commemorating our fave pop-culture looks from the decade
Barbie Rewind Workin' Out doll sports a pink bodysuit with a vintage Barbie logo print, legwarmers and must-have sweatbands
Totally 80s accessories include dumbbells, a duffle bag, an aerobics stepper and a retro Barbie hairbrush
A Superstar face sculpt and bendable knees will make this Barbie Rewind doll an instant collector favorite
With a cassette tape doll stand and VHS-themed packaging, Barbie Rewind doll makes a totally rad gift for Barbie collectors and lovers of all things 80s!




In real life pictures:

Other dolls in new collection:
Barbie Rewind Boombox doll
Barbie Rewind Career Girl doll

More info coming soon.
Subscribe if you want to be informed when Barbie Rewind 80s edition Workout dolls will be released
Facebook