MGA re-release LOL OMG Plane in 2021. It is pretty same 4 in one plane, but this time in soft pink colors.
Comes with 50+ surprises.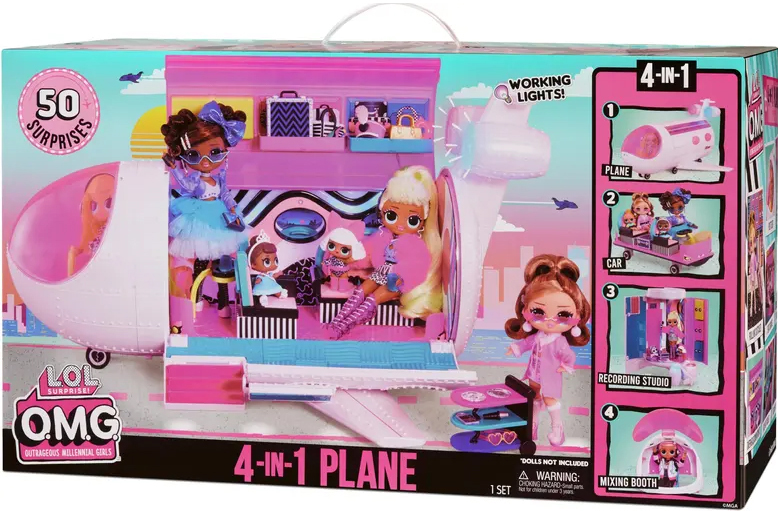 4-IN-1: Plane, Car, Recording Studio and Mixing Booth and have your ultimate remix experience. Travel in style in the LOL Surprise OMG Plane as it got a makeover and an all new white color!
UNBOX 50 SURPRISES including working lights and sounds, drink cart with plates and cups, rolling suitcases, overhead compartments that open and close, seatbelts and more. Fits LOL Surprise OMG fashion dolls and all other LOL Surprise dolls.
ALL ABOARD: Have your LOL Surprise dolls and fashion dolls a memorable experience as they tour to attend the loudest parties and concerts across the globe. So what are you waiting for, fasten that seatbelt and celebrate the surprises!
TRANSFORMING PLAYSET: Pull out the seat section and it becomes a surprise car to drive to the next party. Detach and turn plane on its side to create a recording studio and mixing booth, where B.B.s can work on their latest remix. Party time!
RELAX AND RECLINE: Plane includes seats for 4 dolls plus a pilot's seat. Front seats swivel around, so BFFs can chat and enjoy the spare moments on the flight. When it's time to sleep, seats recline for B.B.s to get their beauty rest. Sleep tight.
ACCESSORIES INCLUDES: 2 neck pillows, 2 sleep masks, 2 microphones, 2 headsets, 2 blankets, tablet accessory, ticket, passport and more!
Facebook