Monster High Skulltimate Secrets Fearidescent Series dolls




Skulltimate Secrets returns with the Fearidescent edition! These Monster High dolls offer a spooktacular unboxing experience with 19+ surprises that include fashions, accessories and themed pieces. Color Reveal technology and step-by-step unveiling add magic and mystery, while the coffin-shaped locker is perfect for storytelling and storage. Each sold separately, subject to availability.


Price: $29.99
Listing for Cleo coming soon.
You can get Skulltimate Secrets Fearidescent Draculaura doll here: https://amzn.to/3pfVHpX
You can get Skulltimate Secrets Fearidescent Clawdeen Wolf doll here: https://amzn.to/44e4Car
You can get Skulltimate Secrets Fearidescent Frankie Stein doll here: https://amzn.to/43RatT5
You can get Skulltimate Secrets Fearidescent Lagoona Blue doll here: https://amzn.to/42QmJSr


Monster High Skulltimate Secrets Fearidescent Series Frankie Stein doll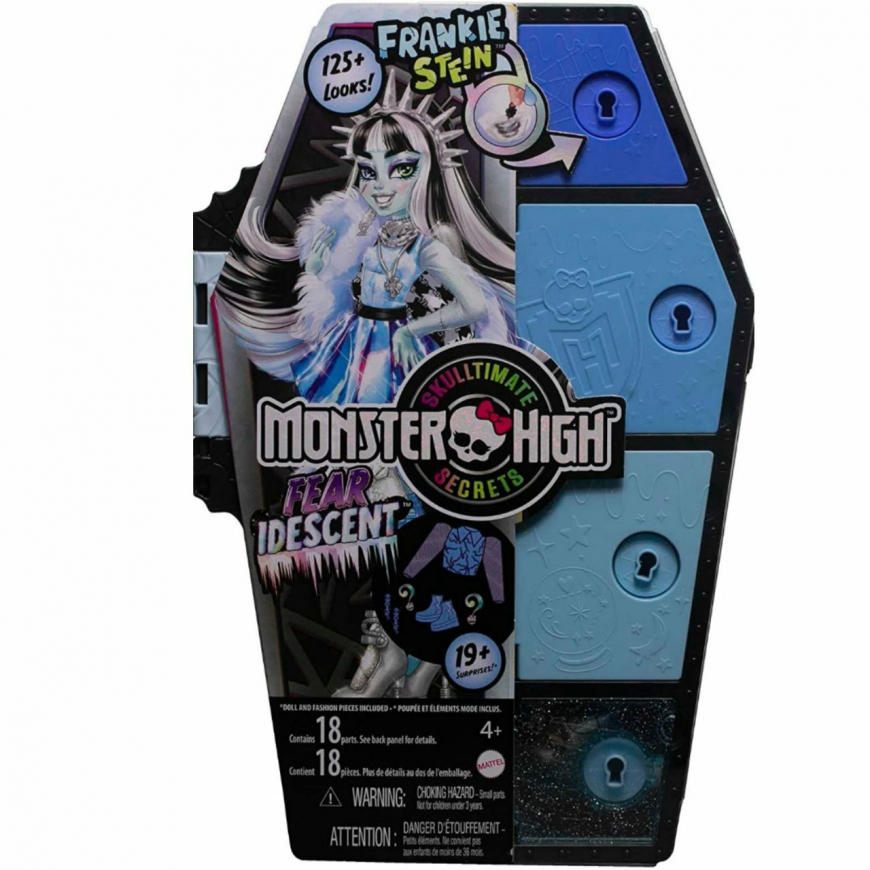 Frankie Stein doll and their fashion surprises shine with gore-geously glam, pearly details in this Fearidescent edition of Skulltimate Secrets! Open their locker for voltageous finds.
Can you creep a secret? Take the four keys and wash off their spooky black coating for a Color Reveal moment, then unlock all four matching compartments to discover hidden items stashed inside.
Once unboxed, use the coffin-shaped locker for screamtastic storytelling, as well as storing Frankie Stein doll and all their clothing and accessories.
Frankie Stein has blunt-cut bangs, metallic lips and a shimmery bionic leg. Their electrifying fashions are catered to their unique monster scaritage and encourage mix-and-match styling play!
From a furry stole and spiky headband to a makeup palette and frankenpop, Skulltimate Secrets comes with 19+ pieces to spark imagination and style expression. Combine them for 125+ looks!




In real life photos from dolllynn_



Monster High Skulltimate Secrets Fearidescent Series Draculaura doll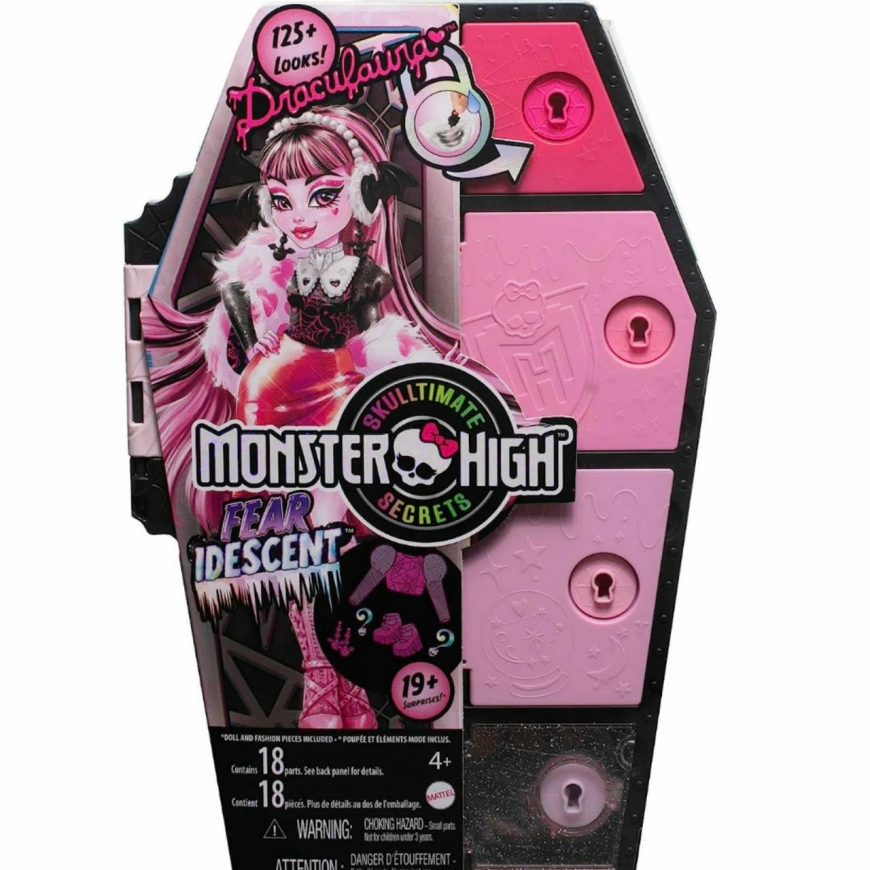 Draculaura doll and her fashion surprises shine with gore-geously glam, pearly details in this Fearidescent edition of Skulltimate Secrets! Open her locker for fangtastic finds.
Can you creep a secret? Take the four keys and wash off their spooky black coating for a Color Reveal moment, then unlock all four matching compartments to discover hidden items stashed inside.
Once unboxed, use the coffin-shaped locker for screamtastic storytelling, as well as storing Draculaura doll and all her clothing and accessories.
Draculaura looks fangtastically fierce with frosted pink hair. Her scary-chic fashions are catered to her unique vampire scaritage and encourage mix-and-match styling play!
From a furry stole and earmuffs to batty ice cream and a handbag, Skulltimate Secrets comes with 19+ pieces to spark imagination and style expression. Combine them in creative ways for 125+ looks!



In real life photos from dolllynn_




Monster High Skulltimate Secrets Fearidescent Series Clawdeen Wolf doll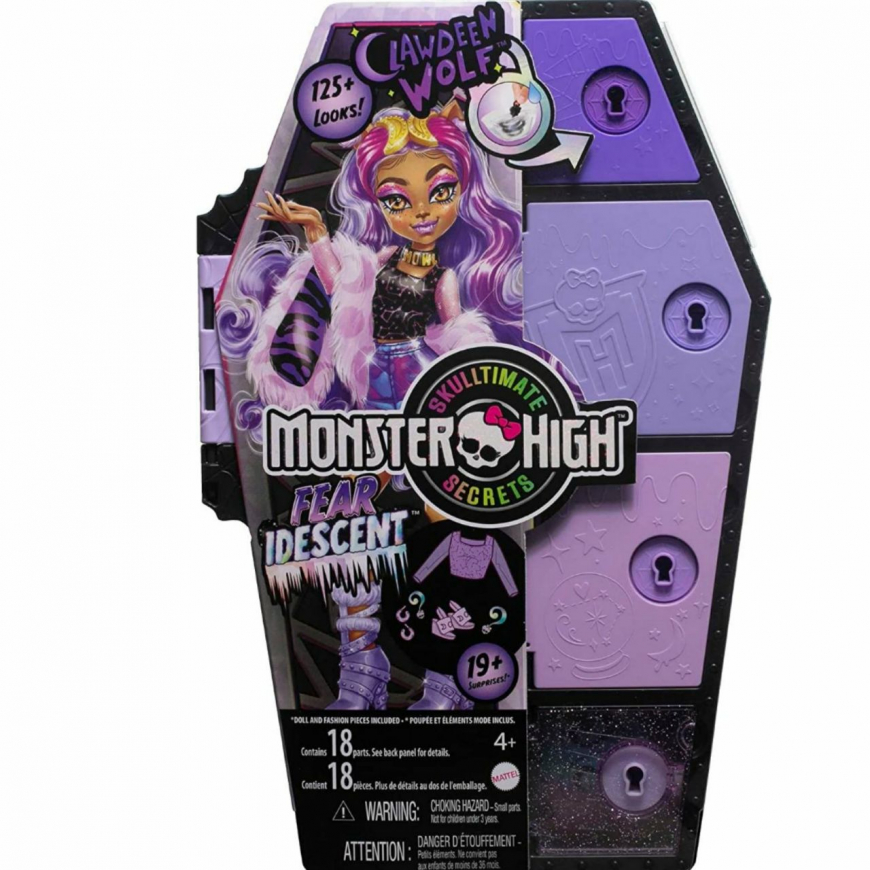 Clawdeen Wolf doll and her fashion surprises shine with gore-geously glam, pearly details in this Fearidescent edition of Skulltimate Secrets! Open her locker for clawesome finds.
Can you creep a secret? Take the four keys and wash off their spooky black coating for a Color Reveal moment, then unlock all four matching compartments to discover hidden items stashed inside.
Once unboxed, use the coffin-shaped locker for screamtastic storytelling, as well as storing Clawdeen Wolf doll and all her clothing and accessories.
Clawdeen Wolf slays with purple ombre hair. Her fiercely fab fashions are catered to her unique werewolf scaritage and encourage mix-and-match styling play!
From a furry stole and moon headband to a purse and sweet snacks, Skulltimate Secrets comes with 19+ pieces to spark imagination and style expression. Combine them for 125+ looks!



In real life photos from dolllynn_



Monster High Skulltimate Secrets series 2 Fearidescent Lagoona Blue doll




Box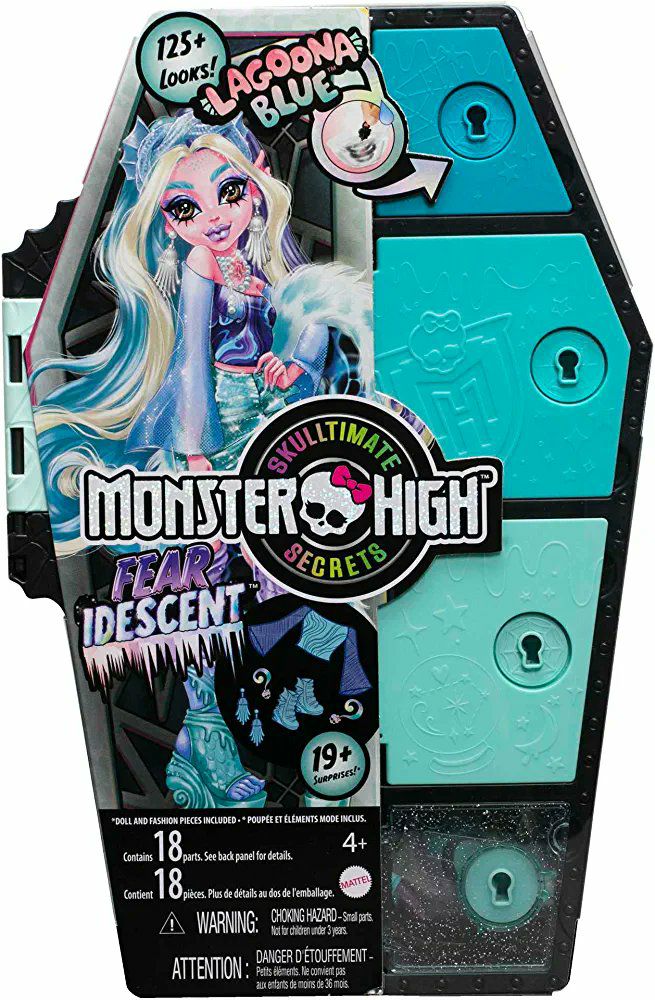 In real life photos from Pablo Gambao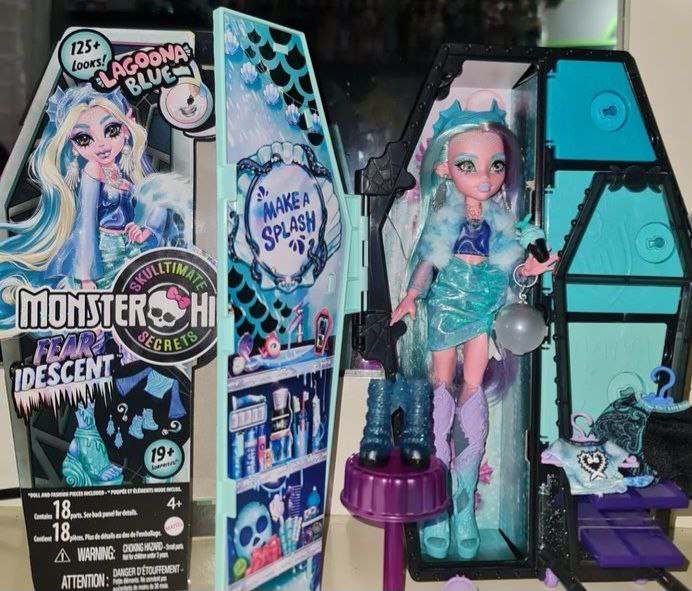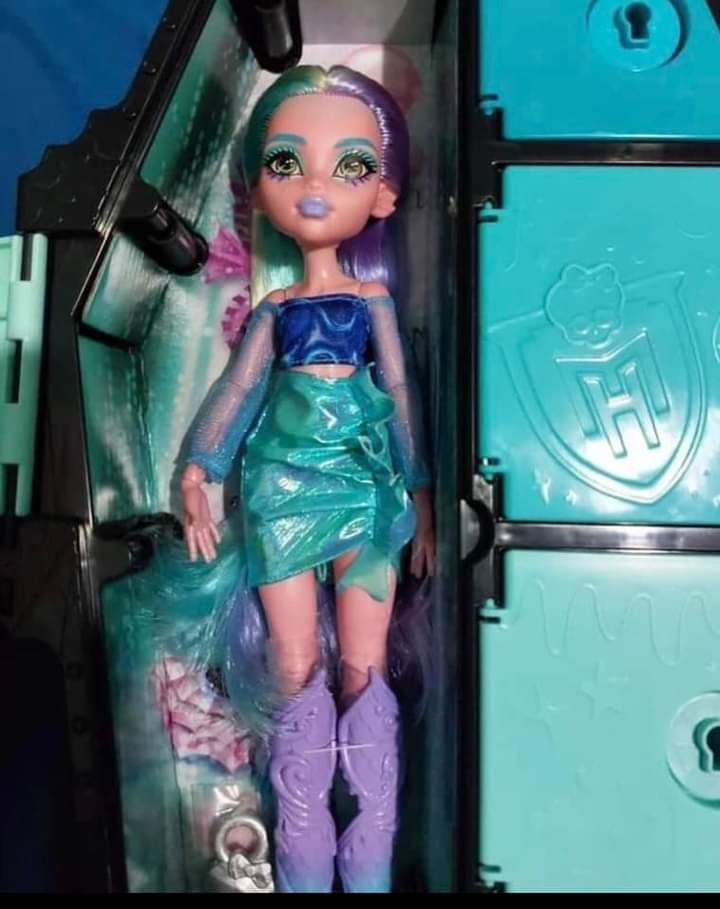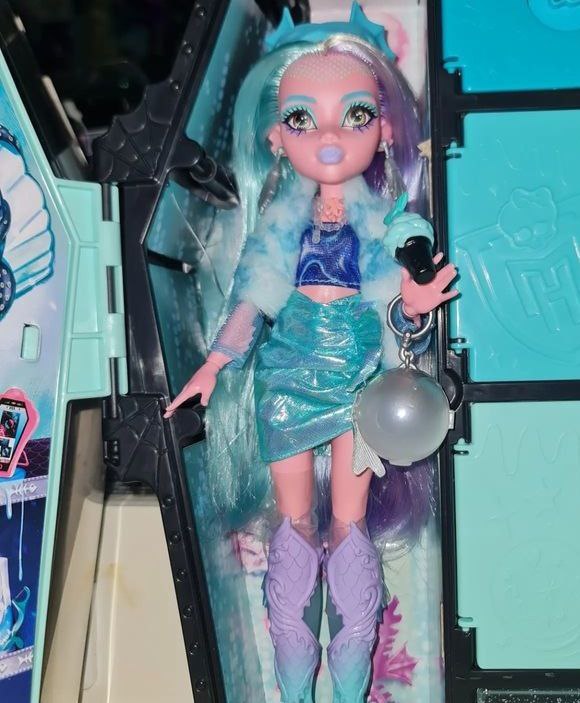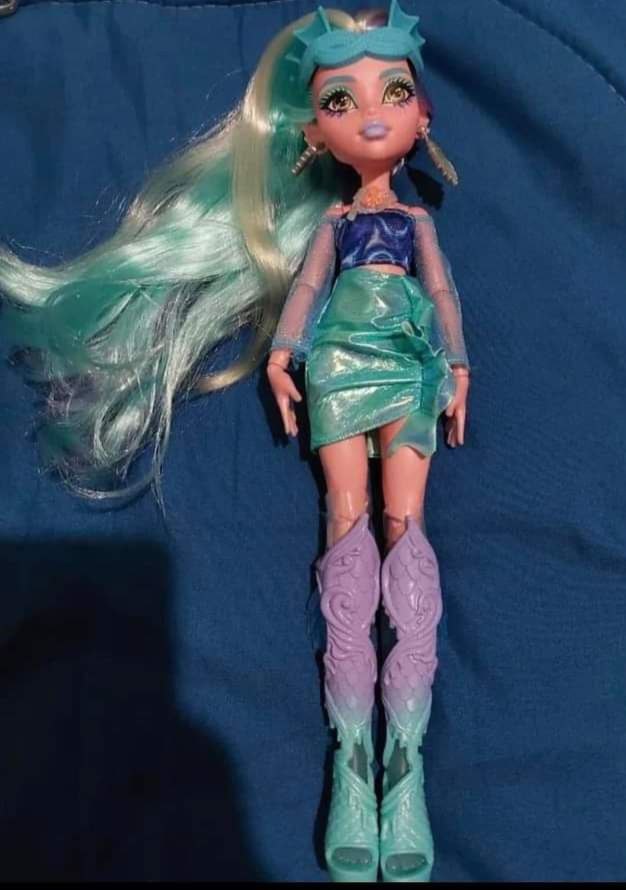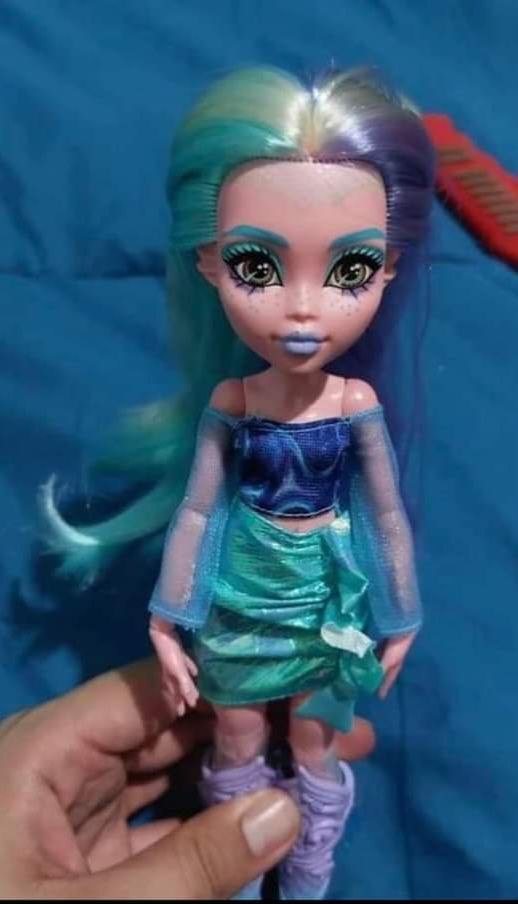 Lagoona Blue doll and her fashion surprises shine with gore-geously glam, pearly details in this Fearidescent edition of Skulltimate Secrets! Open her locker for fintastic finds.
Can you creep a secret? Take the four keys and wash off their spooky black coating for a Color Reveal moment, then unlock all four matching compartments to discover hidden items stashed inside.
Once unboxed, use the coffin-shaped locker for screamtastic storytelling, as well as storing Lagoona Blue doll and all her clothing and accessories.
Lagoona Blue has colorful flowing hair and pastel lips. Her fab-boo-lous fashions are catered to her unique sea monster scaritage and encourage mix-and-match styling play!
Monster High Skulltimate Secrets series 2 Fearidescent Cleo de Nile doll





In real life photos from dutchboy.toycollector (doll was found in smyths shop in Nederlands)


Monster High Skulltimate Secrets series 2 Fear Idescent official art from Darko


Unboxing video:





Facebook