Meet new Barbie Club Chelsea super cute playsets with dolls for 2020
First one is adorable Barbie Club Chelsea Doll and Ballet Playset.




This set includes super cute Chelsea doll in tutu skirt. This doll dreams to become a famous ballerina someday. So now she trains at a dancing stand.
The set also includes a very beautiful stage where the doll can perform his dancing numbers.
Clip Chelsea doll to the stage and activate the twirling feature to help her pirouette! There's even a second clip for a friend or dance partner (sold separately).




Bring dance dreams to life with the Barbie Club Chelsea Ballet Playset that includes Chelsea doll, a transforming stage and 15+ play pieces!
Open the playset to set the scene for dance class with a colorful view, shelving, and space for Chelsea doll to warm up on the ballet barre.
Help her get spotlight-ready at the dressing table, then swing the playset shut to create a stage with a dreamy backdrop.
Take her from practice to performance with a dressing table and stool, ballet bag, costume rack, boombox, tutu, tiara, leg warmers, 2 pairs of shoes, Swan Lake-themed costume and more.





Second one is Barbie Chelsea Doll and Snack Cart Playset.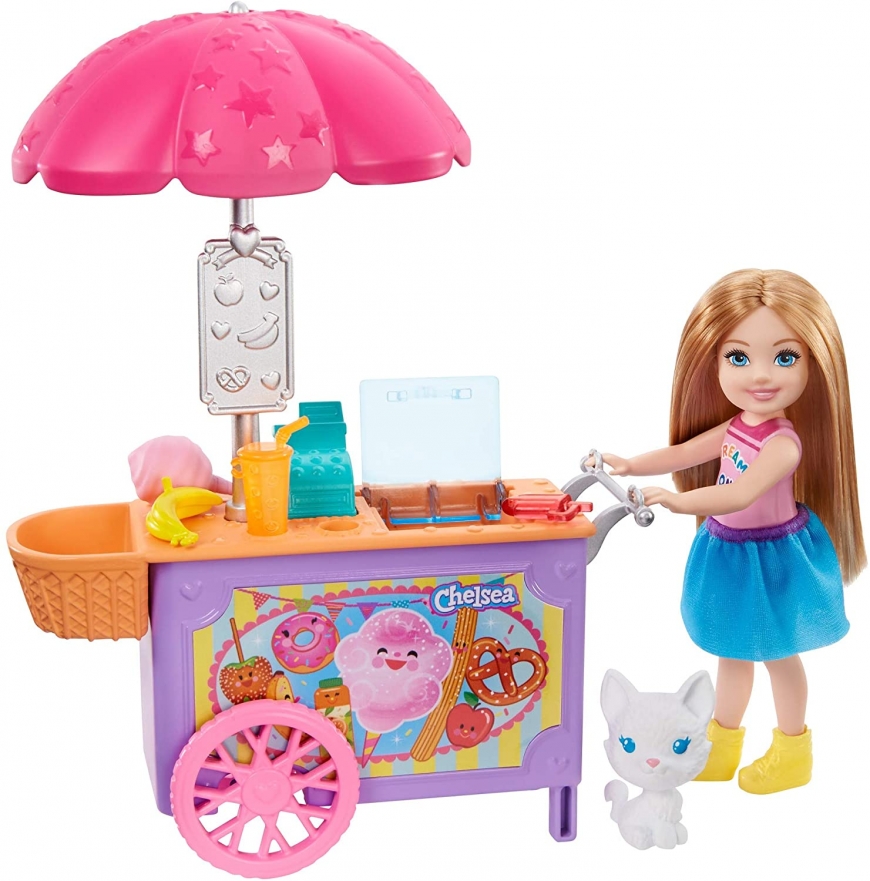 This Club Chelsea snack cart playset includes everything kids need to serve up fun with Chelsea doll and her pet kitten!
The cart features a sweet design -a pink umbrella displays a menu card and provides shade, and colorful graphics bring kids' stories to life.
A built-in compartment opens and closes to keep snacks fresh inside, and a basket for Chelsea doll's kitten inspires friendship moments.
Storytelling accessories include a cash register and colorful snack pieces -some pieces have handles for Chelsea doll and others feature a plug-and-play design.
Chelsea doll wears a blue skirt, bright yellow shoes and a top that encourages kids to "dream on."
Facebook