The series of Monster High Skullector dolls based on famous horror movies continue with new Monster High Collector Dracula doll.
MONSTER HIGH COLLECTORS WELCOME A CLASSIC
Introducing the latest in the Monster High Skullector series honoring the original Universal film, Dracula.
Updated with in real life photos (below)

Release date: June 3, 2022 at 9 a.m. PT
Price: $65


The Dracula Monster High Skullector doll's blood-thirsty look is inspired by the classic tuxedo, medallion, and cape — just like the original film. Our designers made sure to include to-die-for details like a dramatic vampire-inspired face-sculpt and long, inky-black hair.


This collectible doll will be available June 3 at 9 a.m. PT on MattelCreations (sold out)





MEET THE PACKAGING DESIGN TEAM
Lead Packaging Designer Charis Ceniseroz started her Mattel career in 2014 working on Monster High, so it's only fitting that she leads the packaging design team with Lead Copywriter Tamika Cosen and Packaging Engineer Olga Tesler for this entry of the Skullector series.

How does the packaging pay homage to Dracula?

"The packaging is meant to tell the story of the doll, character, and film. We kept the color of the artwork in black and white to pay homage to the 1931 movie, and added strategic pops of color to draw your attention — like the red in the eyes of the hanging bats and the yellow and gold in the candle flames."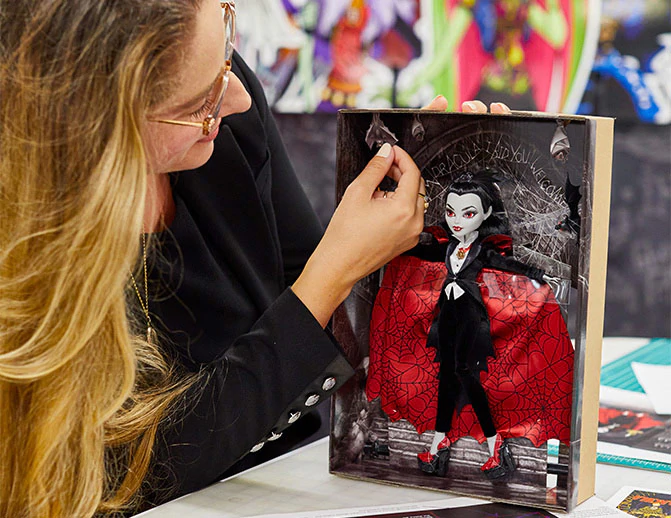 How did the team bring the packaging to life?

"We worked with illustrator Jeff Mangiat to bring every detail to life, like the crumbling walls, staircase, and full moon that creates dramatic shadows across the interior. The back panel weaves product details together using the voice and cadence of the character — brilliantly written by Tamika Cosen."

What's one of the spooky hidden details on the packaging?

"In the spider web that frames the doll, we have the movie dialogue Dracula delivers when he walks down the stairs: "I am Dracula, I bid you welcome." He says this to his guests as they walk through a large spider web and enter the castle. It's symbolic of the way he lures his victims in."

What makes this so exciting for collectors?

"I think the collectors will love this doll and package for the details and the story. It encompasses both iconic Dracula details from the 1931 movie and stunning Monster High product style and attention to detail."



Monster High official account congratulated on Dracula Day (celebrated on May 26) and posted first teaser of the upcoming Monster High Skullector 2022 doll.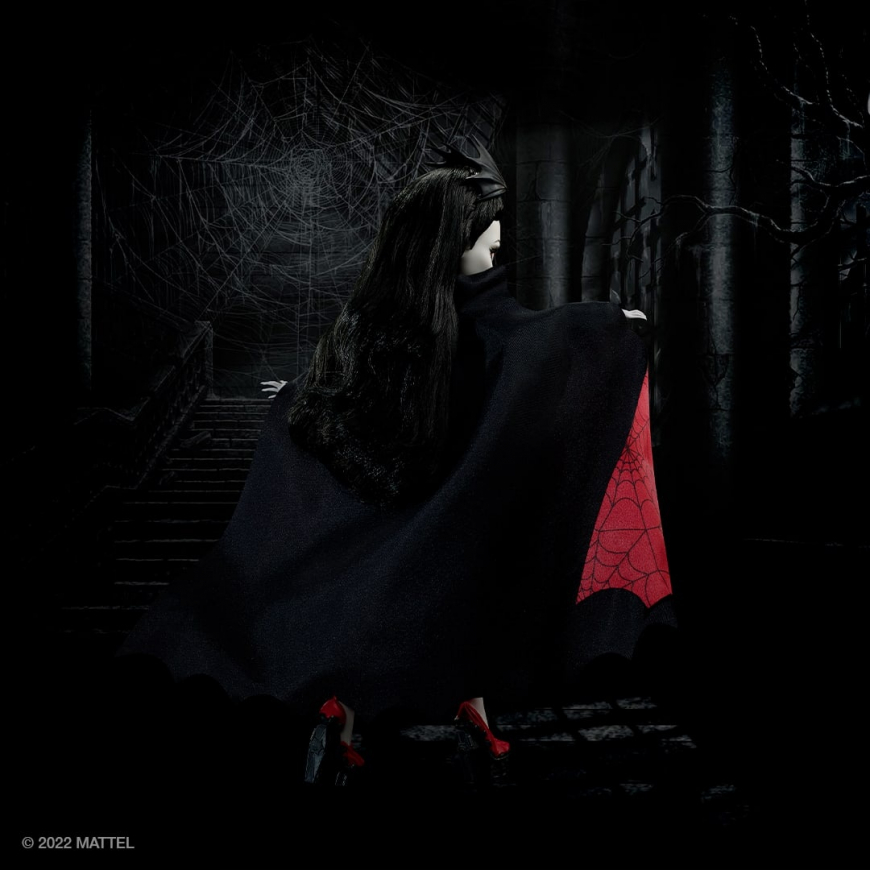 It's #WorldDraculaDay! Stay tuned for our next #MonsterHighCollector release—you von't vant to miss this batty skullectible.



Unboxing and review


In real life photos from poison_ivy_dolls

Subscribe if you want to be informed when Monster High Skullector Dracula doll will be released
Facebook