MGA releases it's first Dia de los Muertos Rainbow High Collector Celebration edition doll in fall 2022.
Includes one doll, hat, dress, body suit, a pair of shoes, earrings, a pair of bracelets, a headband, hairpins, a bag, a comb, and a stand.




Promo images: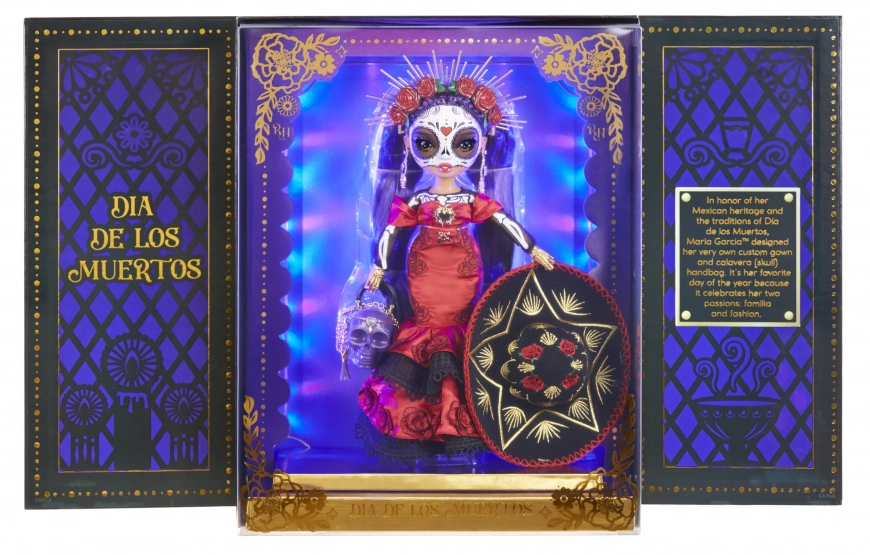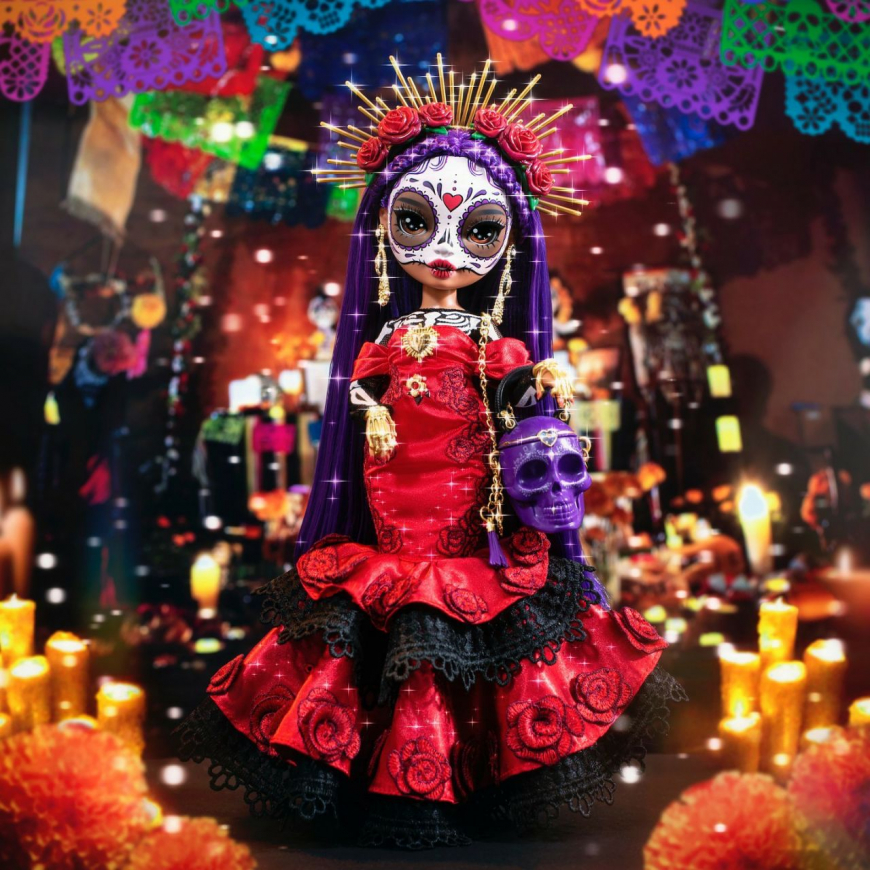 Official description:


RAINBOW HIGH CELEBRATES DIA DE LOS MUERTOS: Our collector doll honors the heritage and traditions of Día De Los Muertos with her beautiful, embroidered dress, elaborate headband, calavera (skull) handbag, and premium fashion accessories.
LED LIGHT UP DISPLAY: Maria Garcia comes with a decorative, multicolor LED light up display to showcase the gorgeous doll. The display turns on with a quick press of the button on the left side. (Batteries included). To conserve battery life, it automatically turns off after 40 seconds if it senses no motion.
CUSTOM GOWN & HANDBAG: Maria designed her very own custom gown and calavera (skull) handbag to celebrate the holiday. She comes wearing a red mermaid-style gown, with flower embroidery, sequin and rhinestone details, and black lace body, with organza underneath for added volume. Paired with stretch knee-high boots with gold buckles and a felt sombrero with flowers and gold embroidery. The one of a kind calavera handbag opens at the top with a leather handle and closes with a diamond charm. It also comes with a chain to wear over the shoulder.
STUNNING MULTICOLOR HAIR: Her hair is as stunning as her outfit; she has long, brushable, multicolor purple hair with a thin braid on top. Her hair is pulled back to showcase her celebratory face painting.
CELEBRATORY FACE PAINTING & SKELETON BODYSUIT: Maria's face painting pays tribute to the tradition of the special holiday. She comes wearing a skeleton bodysuit underneath her gorgeous dress, along with skeleton hand jewelry and a pair of calavera inspired earrings.
PREMIUM EXCLUSIVE PACKAGING: The package celebrates Día De Los Muertos with a luxe collector box that is the perfect gift. This special edition box arrives closed. It features a gorgeous illustration on the front, wrapped with a gold ribbon and faux marigold flower. To unbox, untie the ribbon and pull the front off from the magnet to unveil the doll. She comes on a clear plastic stand to keep her in place and can be displayed with or without.
FOR DISPLAY- Quick steps to remove plastic stand: If you choose to display your Collector Doll without the clear plastic stand, we suggest: 1) Remove or cut the side tape 2) Lift up the back flap 3) Remove the back tape (holding plastic in place), and the stand comes off easily without damaging your doll. You will see 4 small cut lines on that front backdrop of where the doll will be displayed.



Rainbow High Dia de Muertos Unboxing video and Review


First pictures from Ilikeit.bb. This could be final version and prototype doll (factory sample). Still need to wait until official promo and photos of the already released dolls.


Price: Price: $124.99
Release date: September, 2022
Post will be updated with more info, release date, pictures, stock images and doll's photos.
Subscribe if you want to be informed when Rainbow High Dia de Muertos collector doll will be released
Don't miss any news - subscribe to our
Facebook