MGA releases new collector Holiday Edition doll of Roxie Grand character. Roxie Grand is ready to celebrate the holiday in diamonds and sparkle. She comes wearing an iridescent organza dress embellished with 683 rhinestones, diamond accessories, and sparkle shoes. Great gift for kids and Collectors.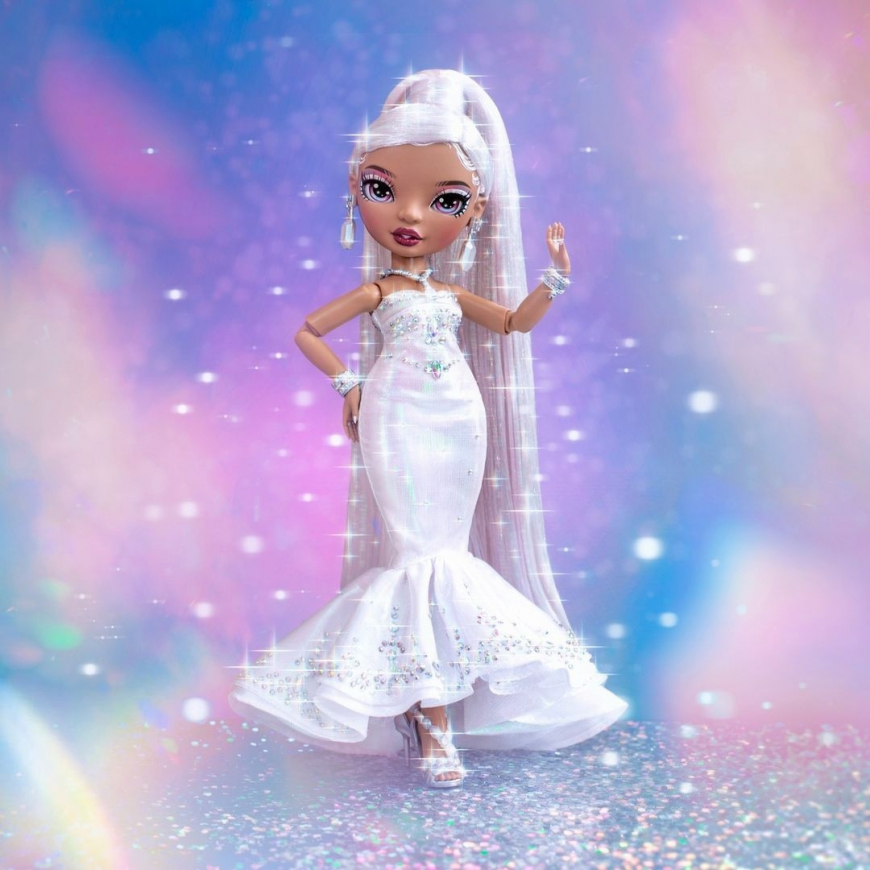 First photos from doll.collecting



MOVABLE STAND: Roxie Grand has impeccable style and not shy to the spotlight. She comes with a movable stand that can shift left to right- perfect for any camera moment.
SHOWSTOPPER STYLE: At Rainbow High, she's the queen bee of styling — nicknamed "The Boss". She's styling the gowns for the Rainbow Divas big Rainbow Vision performance, and she's bringing her A game! She comes wearing a gorgeous mermaid gown with 683 rhinestone embroidered all along the top and bottom ruffle of the dress, diamond heels, and six stackable diamond bracelets, a pair of sculpted earrings, and bold gem necklace.
STUNNING MULTICOLOR HAIR: Her hair sparkles as much as her outfit. She has long brushable iridescent hair and is pulled back in a fierce ponytail to showcase her beautiful glass eyes and long lashes.
STYLING ACCESSORIES: Roxie is smart, and a force to be reckoned with. She comes wearing drool-worthy jewelry: six different diamond shape and color bracelets, a pair of emerald diamond earing with RH logo, and a diamond necklace with cushion cut gem. Perfect for mix & match fun.


Rainbow High Roxie Grand Collector's Holiday Edition Doll Unboxing and Review video



Price: $79,99
Release date: September 2022

To be updated!
Subscribe if you want to be informed when Rainbow High Roxie Grand Art of Fashion collector doll will be released
Facebook