Meet new advent calendar from Mattel - Barbie Cutie Reveal Advent Calendar 2023 with Barbie Cutie Reveal festive deer doll.
Barbie Cutie Reveal Advent Calendar includes 24 surprises - new Barbie doll in Cutie Reveal deer outfit and other festive fashions, plus cute animal friends.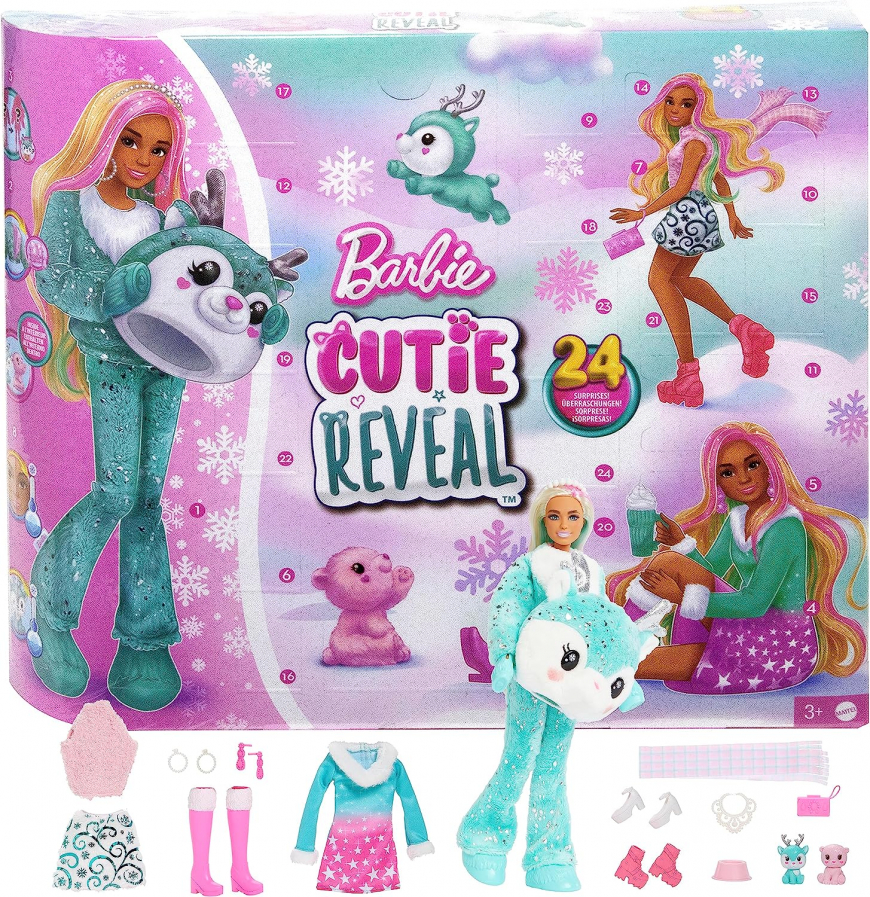 Count down to the holiday with 24 cutie surprises in one package -- the Barbie Cutie Reveal Advent Calendar and doll deliver all kinds of delight. Kids will have fun revealing a new winter-themed item every day!
Discover a Cutie Snowflake Sparkle Deer -- reveal Barbie doll on the first day, and then days later, unbox the Silver Sparkle Deer costume and the cutest winter outfits!
Keep unboxing for more winter cuteness, like mittens, boots and snow-themed clothes. Style the doll with a headpiece, jewelry and more sparkly accessories. Kids can create unique cutie combos on their doll!
Reveal more fun wintertime surprises, including 2 cute mini-pets with accessories and color-change eyes that 'open and close' with icy cold or warm water!
Explore a winter wonderland with additional gifts like a camera, mug, snow boots and holiday cookies.
Barbie Cutie Reveal Advent Calendar makes a great gift for kids 3 years and older, who can mix and match accessories and have endless winter fun!



To be updated!
Subscribe if you want to be informed when Barbie Cutie Reveal Advent Calendar 2023 will be released
Facebook