Meet newest Monster High Skulltimate edition doll - Draculaura Vampire Heart. The doll has a very beautiful and detailed ball gown, unique hairstyle and hair piece, lace elements and gorgeous color scheme.
Out of stock, but small batch can be restocked anytime. Release date: October 13, 2023



More links coming soon!




Monster High Draculaura Vampire Heart Collector doll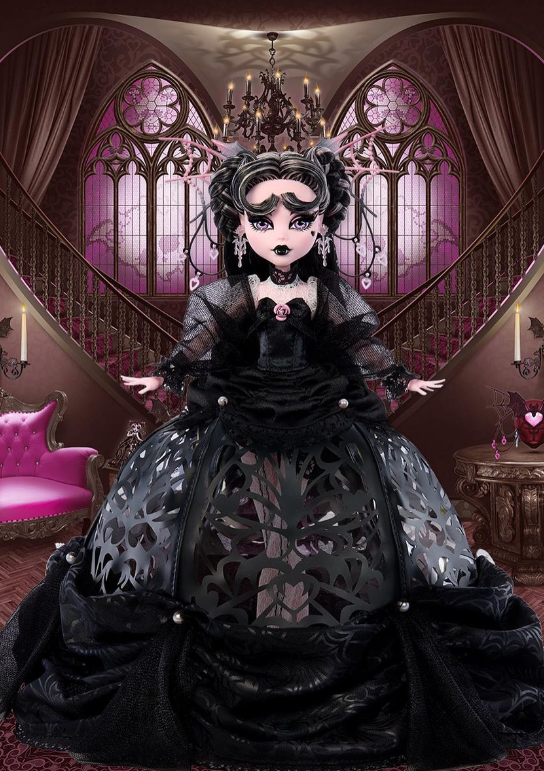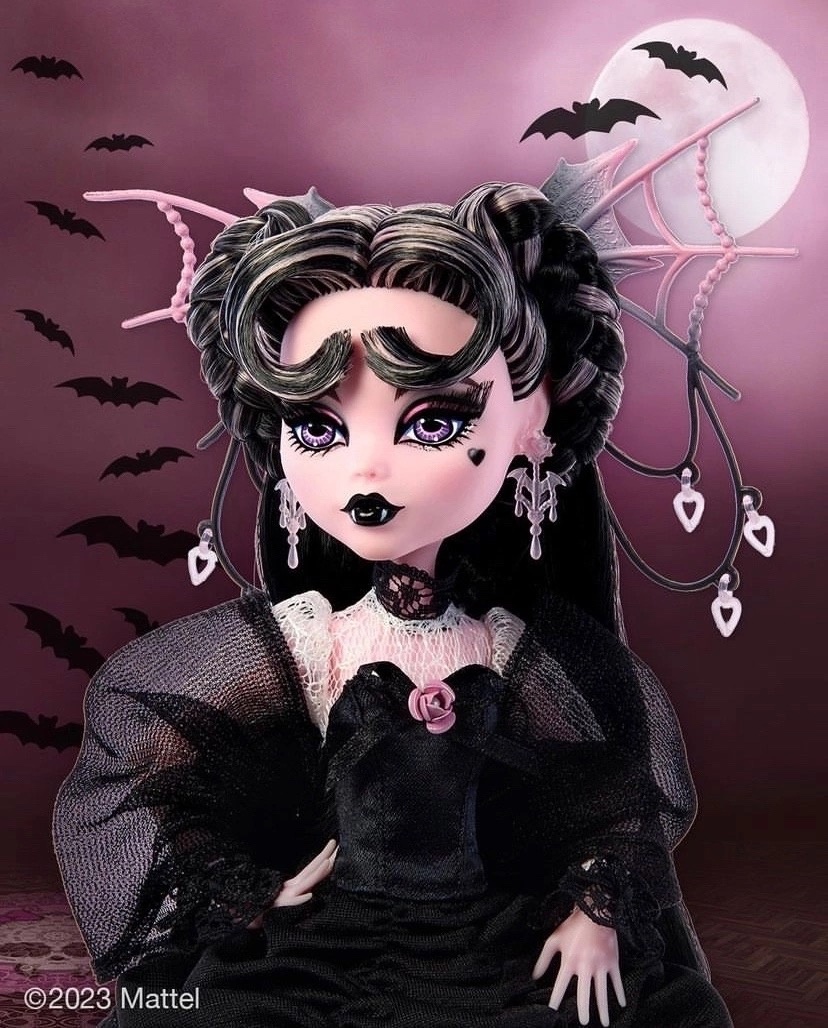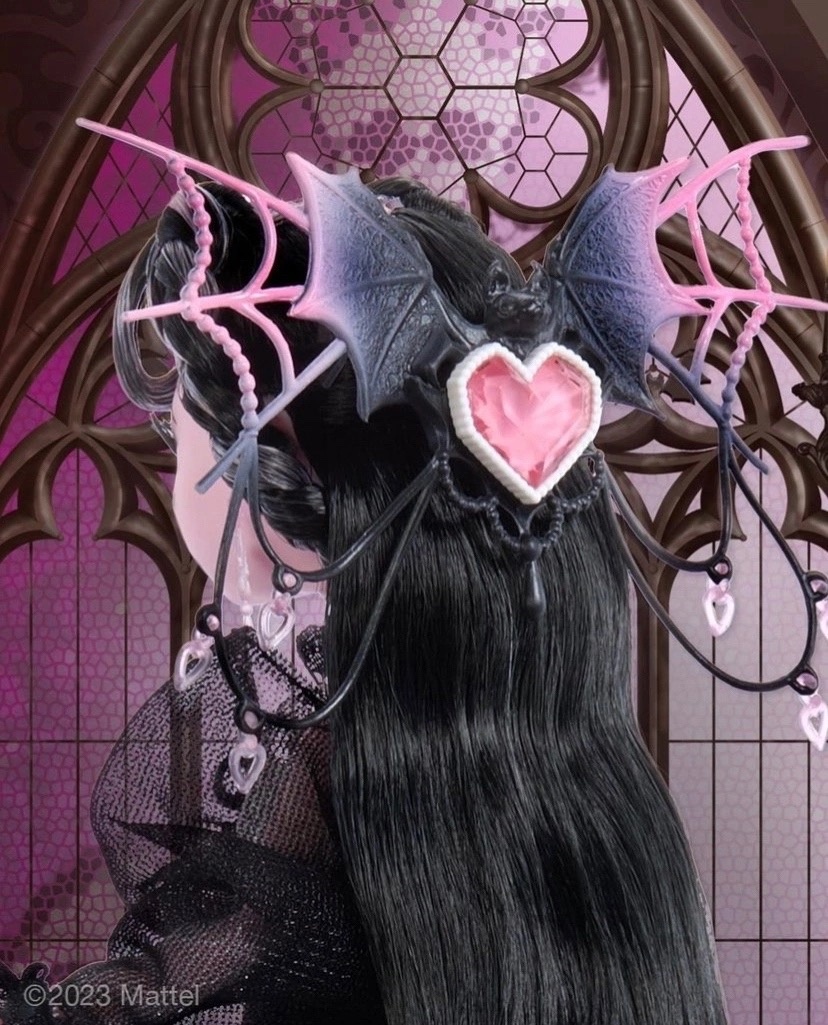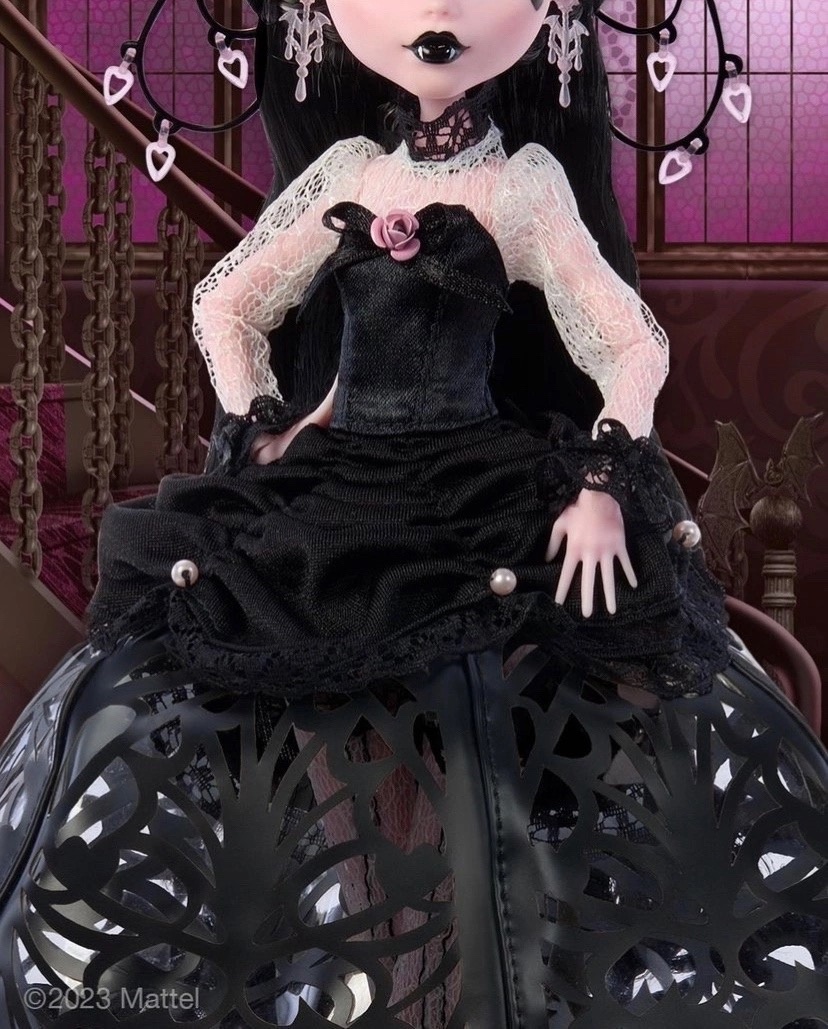 Detail provided by Annalise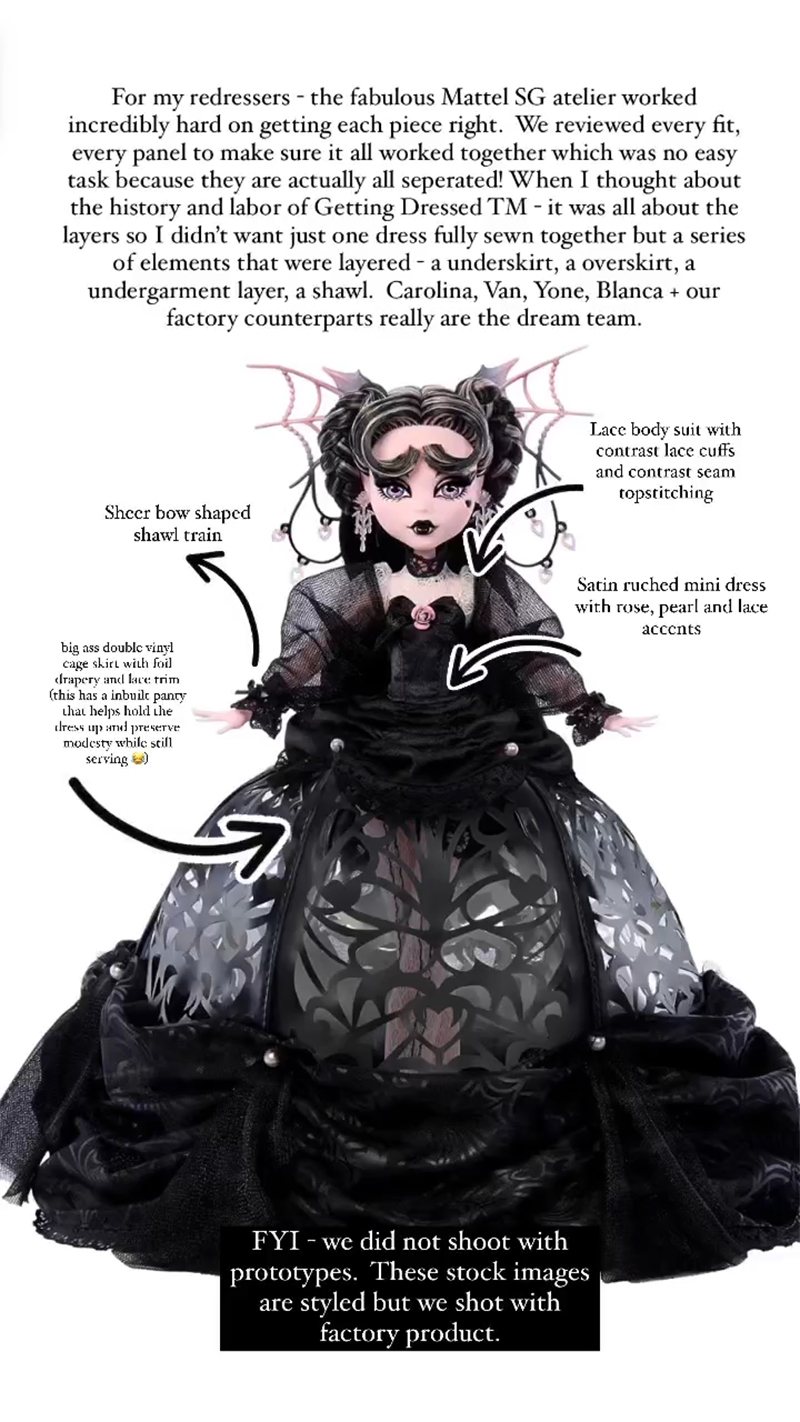 The Vampire Heart Draculaura release is a reimagining of the plot of the cartoon Frights! Camera! Action!" - If Draculaura really was the Vampire Queen, what would she look like at her coronation, presenting herself to the vampire community for the first time?
Draculaura's hairpin features the Vampire Heart artifact, which seems to glow, indicating the real queen.
The packaging was designed by Diana Leto (missdianaleto) and Ola (@polgie).
The base of the box is made of beautiful light pink foil, it reflects light through the hem of Draculaura's dress.
The box resembles a glass dome.
Lisa Camarga (lisakamarga) created a mockup for laser cutting the hem of the dress. The hem had to meet several criteria: it had to be open enough to show off the lower layers of the dress, thin enough to look subtle, but it had to be functionally strong enough to be fabricated.
Draculaura's "Vampire Heart" hem cutouts and fabric prints are modified patterns of Draculaura's dress, Frights! Camera! Action!"
Graphic designer Mallory (not with social media) was in charge of making the metallized patterns on the bottom drape of the hemline.
Stone Procaccino (stoneprocaccino) painted Draculaura's face, drawing on her majestic, grown-up and sophisticated image. He added a glittery streak under her eyes to the makeup from himself
Aki Jacobson (aki_jacobson) created Draculaura's hairstyle with thick braids swept back in a heart shape and shaped quiff, creating a unified motif
It was important to design the hairstyle in such a way that the hairpin could be securely fastened to the hair, and that the plastic holders could be trimmed when unpacked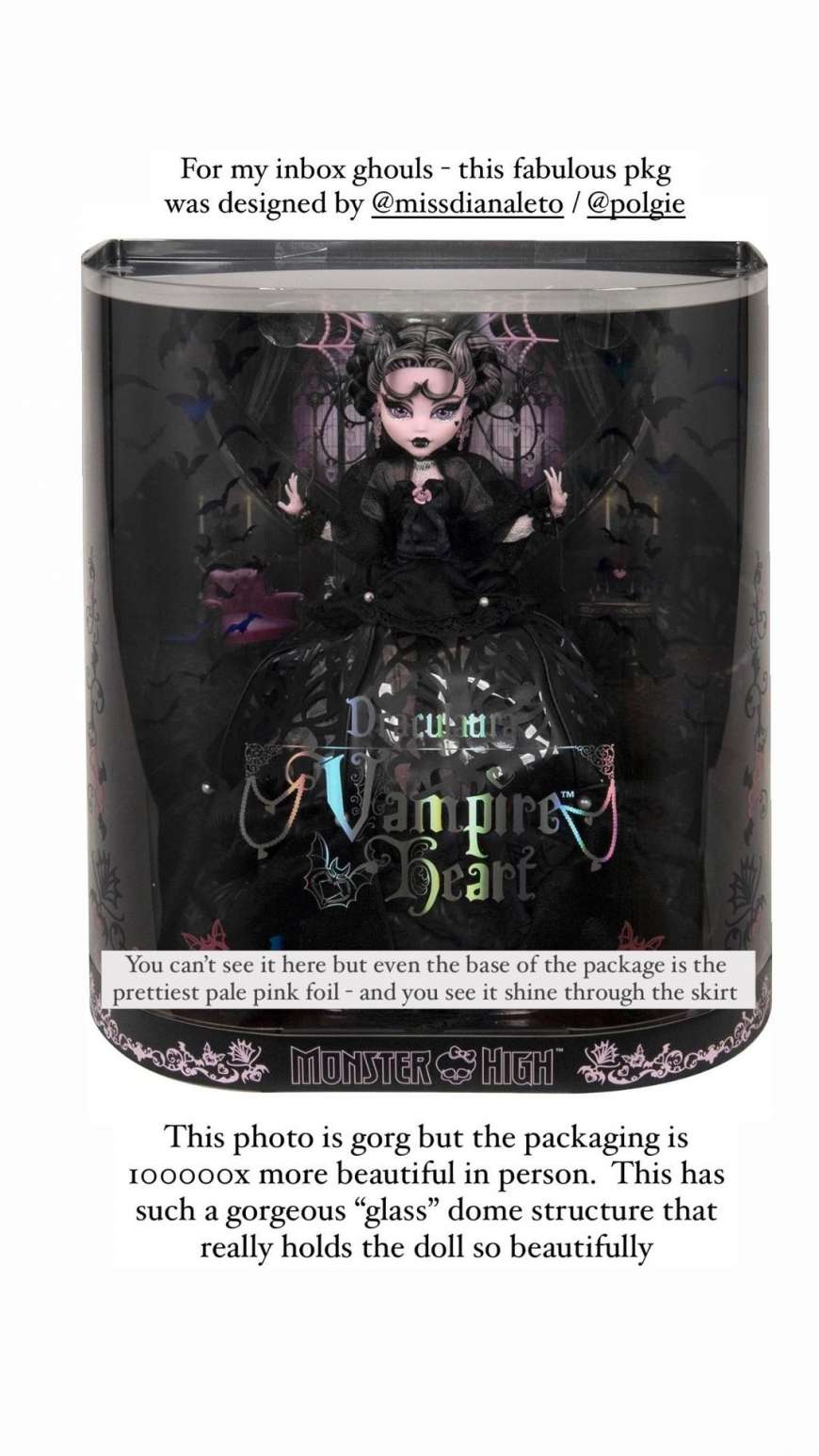 All hail The Vampire Queen! Draculaura Vampire Heart doll looks like she's stepped right out of a dark fairytale in her gore-geously gothic gown.
Awestruck gasps will fill the vampire court as their undead queen Draculaura descends the ballroom staircase with a black train draped behind her like a shadow.
Her breathtaking look features a lacy white bodysuit, a satin bustier bodice with sheer puff sleeves, a cut-out cage skirt with hand-tacked ruffles at the hem, and pink "pearl" embellishments.
Heart-shaped bangs curl above smokey eyes with rooted lashes, while face-framing braids show off her chandelier earrings and twist around an elaborate batwing headpiece
Draculaura doll's majestic look is complete with ornate lace-sculpted shoes that have a bat-topped spiral staircase at the heels.
With a doll stand and deluxe, displayable packaging, Draculaura Vampire Heart doll makes a fangtastic gift. She's the skulltimate edition to any Monster High collection.


Price: $100
Model number HRC14

In real life photo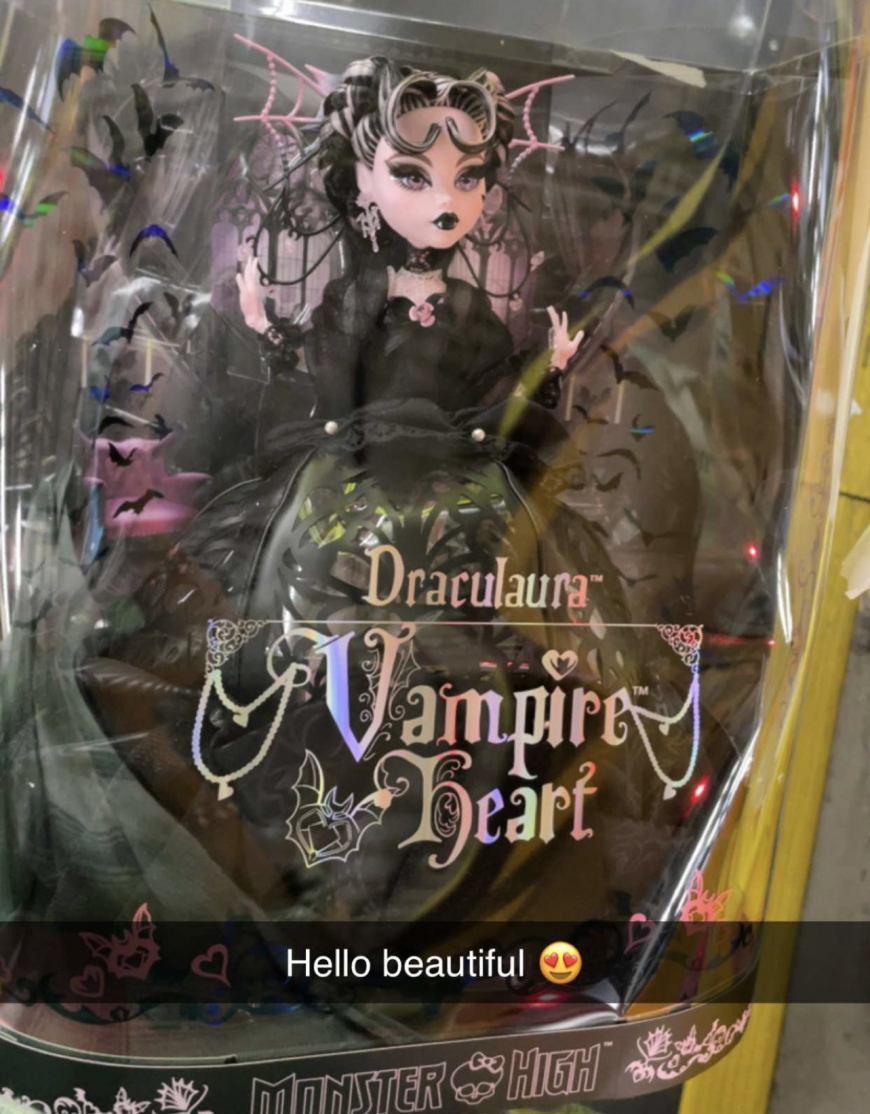 Subscribe if you want to be informed when Monster High Draculaura Vampire Heart Collector doll will be released
Facebook