MGA release next huge new doll set with LOL OMG and LOL Surprise dolls - LOL OMG Extreme Movie Surprise.
Comes with 70+ surprises. Including 12 dolls and a tripod for your cell phone to film movies. With over $200 value!





LOL Surprise OMG Movie Magic Studios


Comes with 12 exclusive dolls: 2 OMG dolls, 6 LOL tots, 2 pets and 2 lil sisters.




UNBOX 70+ Surprises including 12 dolls and a tripod for your cell phone to film movies. Over $200 value!
READY TO FILM with packaging that becomes a movie studio with 4 stages and a movie theater green screen, and an included tripod for your cellphone to film movies!
12 DOLLS TO UNBOX including 2 OMG fashion dolls, 6 LOL Surprise dolls, 2 Pets and 2 Lil Sisters ensures that you can create a full cast and crew for each movie you produce!
PACKAGE BECOMES PLAYSET WITH 3D UNBOXING EXPERIENCE: Brace yourselves for the ultimate movie toy playset and enjoy an exciting, fun 3D unboxing experience with the LOL Surprise Extreme Movie Magic playset!


First look at the packaging that transforms in a large film studio with a green screen. There is also tripod mobile phone holder, secret doors and secret messages.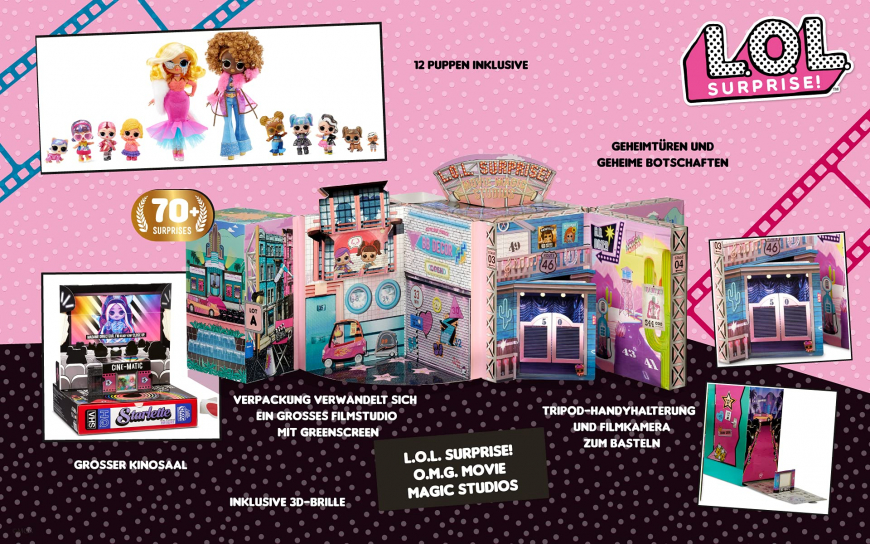 Release date: September 5 2021
Price: $129.99
Subscribe if you want to be informed when new LOL OMG dolls will be released
Facebook