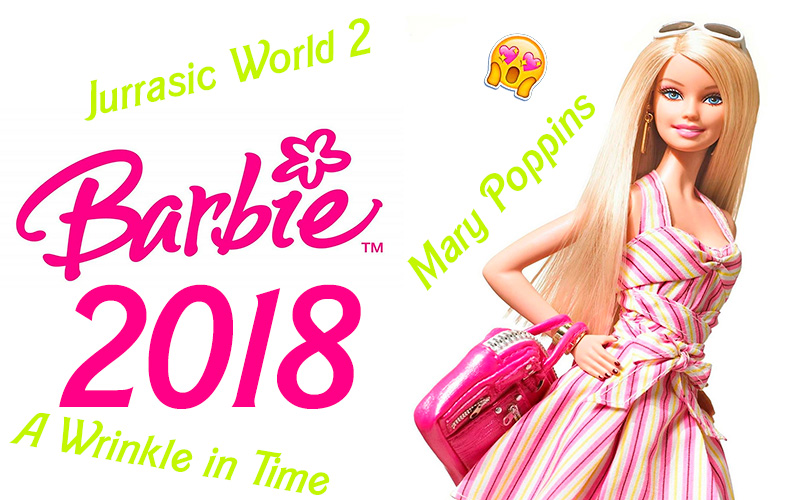 Here is list of new upcoming in 2018 collector Barbie dolls:



Puma Barbie Doll 2018 DWF59
Totally ontrend, Barbie doll wears a sporty Puma athleisure outfit accented with cool pink and black Puma shoes.

Jurrasic World 2 Claire Barbie Doll 2018 FJH70
Jurrasic World 2 Owen Barbie Doll 2018 FJH57
Get ready for dinomite action and adventure when allnew Jurassic Park 2 roars into theaters on June 22, 2018. The collectible dolls in this assortment are based on the two key characters, Claire (Bryce Dallas Howard) and Owen (Chris Pratt). Each doll is sculpted to the likeness of the actor and is fully articulated. Black Label collection

Inspiring Women of Achievement Barbie Doll 2018 FJH62
Barbie doll pays tribute to Women of Achievement throughout history and portrays each of the iconic women. Fashion elements are authentic and girlfriendly. Also includes piececount for storytelling and an education component on the packaging

Laurie Hernandez Barbie Doll 2018 FJH69
Barbie doll inspired by a woman "Shero".

Barbie styled by Marni Senofonte Doll #1 2018 FJH75
Barbie Styled By… features a collaboration with major celebrity stylist, Marni Senofonte and her designs based on popular dolls that debuted on @barbiestyle. Barbie doll styled by Marni that feature differentiated looks, denim overlay and diverse ethnicity and body styles.

Barbie styled by Marni Senofonte Doll #2 2018 FJH76
She's your most fashionable friend, always intheknow, both endlessly inspired and inspiring. #TheBarbieLook Barbie doll makes fashion fun, taking cues from international runways and street style looks on every corner. She couples her enviable wardrobe with an active imagination to create personal style that begs to be photographed. #TheBarbieLook Barbie doll has the first fully articulated curvy body in the line and is the epitome of nighttime glamour in her shimmering aqua mini dress. Noteworthy accessories complement her chic outfit. A style icon for the digital age, follow her everyday adventures with @barbiestyle.

Barbie Doll Mrs. Whatsit Reese Witherspoon ''A Wrinkle in Time'' FPW23
Barbie Doll Mrs. Who Mindy Kaling ''A Wrinkle in Time'' FPW24
Barbie Doll Mrs. Which Oprah Winfrey ''A Wrinkle in Time'' FPW25

Collection of dolls based on the upcoming movie, A Wrinkle in Time releasing in April 2018. Assortment features three collectible dolls based on the key female characters in the movie: Mrs. Who (Mindy Kaling), Mrs. Which (Oprah Winfrey) and Mrs. Whatsit (Reese Witherspoon). Each doll is sculpted to the likeness of the actor and is fully articulated. Black Label collection.

Nutcracker and the Four Realms Barbie doll FRN77
The Nutcracker and the Four Realms will delight audiences everywhere and become a new holiday classic. The Nutcracker and the Four Realms Barbie Sugar Plum Fairy doll is inspired by the Disney movie and main character. Colors and decorations may vary.

Barbie Fashion Model Collection FRN96
This Barbie Fashion Model Collection (BFMC) doll features design inspired by elegant couture and epic redcarpet looks. The doll's beautiful black gown includes embroidered sequined stars that add a touch of shimmer against her beautiful vintage face sculpt. Posable Silkstone body allows endless posing possibilities. Gold Label Collection 2018.

Barbie 3 doll set: Mary Poppins doll, Topsey doll & Jack doll 2018 FRN80
The beloved movie, Mary Poppins was an instant classic and now the movie sequel, Mary Poppins Returns will enchant a whole new generation of fans. The Mary Poppins Returns assortment features dolls inspired by the movie sequel and include the three main characters: Barbie Mary Poppins doll, Barbie Topsey doll and the Barbie Jack doll. Colors and decorations may vary.

Barbie Mod Friens 3 Dolls Giftset FRP00
This reproduction of original Barbie "Mod Squad" dolls features a threedoll giftset to commemorate the 50th anniversary of Christie and Stacey dolls. Features a citrus color fashion story, twist and turn torsos and rooted eyelashes. Gold Label Collection.
Facebook