An electric new story of teenage Cruella de Vil in an original novel inspired by the upcoming Walt Disney Studios Live Action Film, Cruella.

Release date: April 6, 2021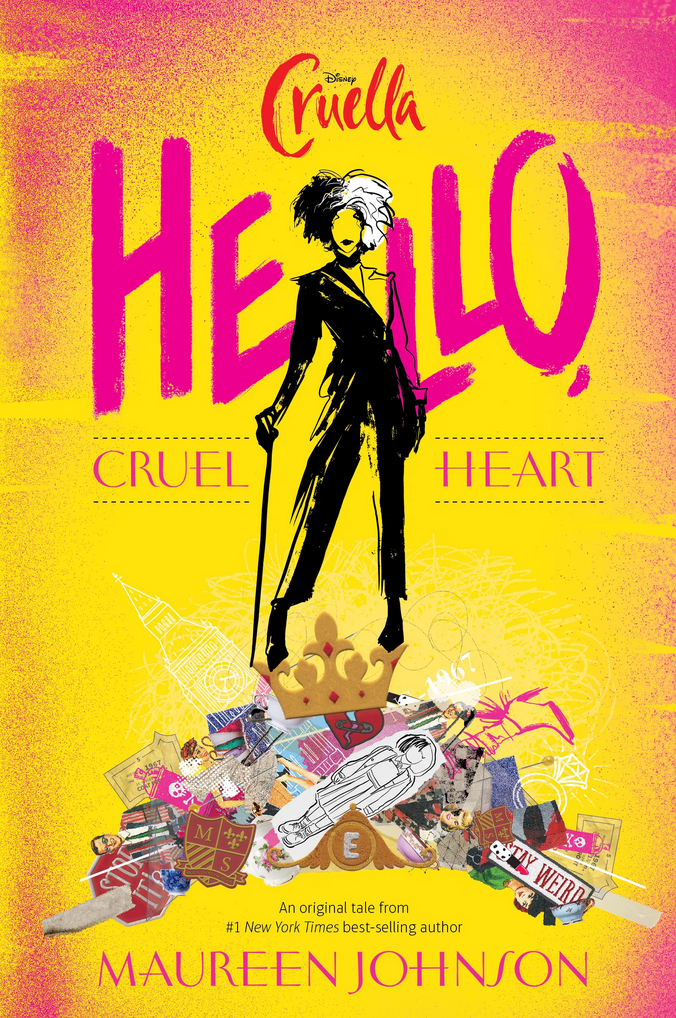 Swinging London, Summer 1967. Sixteen-year-old Estella, gifted with talent, ingenuity, and ambition, dreams of becoming a renowned fashion designer. But life seems intent on making sure her dreams never come true: having arrived in London as a young girl, Estella. spends her days running wild through the city streets with Jasper and Horace, amateur thieves who double as Estella's makeshift family and partners-in-(petty)-crime.

How can Estella dedicate herself to joining the ranks of London's design elite when she's busy sewing endless costumes and disguises for the trio's heists? When a chance encounter with Magda and Richard Moresby-Plum, two young scions of high society, vaults Estella into the world of the rich and famous, she begins to wonder whether she might, indeed, be destined for more after all. Suddenly, Estella's days are filled with glamorous parties, exclusive eateries, flirtations with an up-and-coming rock star, and, of course, the most cutting-edge fashions money can buy. But what is the true cost of keeping up with the fast crowd—and is it a price Estella is willing to pay?
Reading age : 12 - 18 years
Grade level : 7 - 12

Placing the plot of this novel in the 60s means that it will take place around 10 years before the Disney cinematic prequel to 101 Dalmations which is already expected to be taking place at the height of the late 70's punk rock period.

Author of the book - Maureen Johnson also explained that music plays a significant part in both the story and its creation:

I used a lot of music in the creation of this book! Maybe the biggest album of the period it covers—and certainly one of the most famous of all time—is Sergeant Pepper's Lonely Hearts Club Band by the Beatles. If you've never heard it, well, now is a good time. You can also see a bit of the recording of one of the most famous tracks, "A Day in the Life." They turned this recording into a party, and you can see many of the people mentioned in the book.

I was thinking about "Itchycoo Park" by The Small Faces when I was making the Electric Teacup. This is one of my favorite songs of all time. I first heard it when I went to London after college and I was working there during a brutally hot but amazing summer.

I mention the Rolling Stones a lot, including Mick and Marianne. Mick Jagger and Marianne Faithful were a couple, and they lived at 48 Cheyne Walk. I made Magda and Richard their neighbors. There are many great Rolling Stones songs I could mention here, but I think I'm going to go with "We Love You." Mick Jagger and Keith Richards were famously arrested and put on trial in 1967, and they made this song in response to those events and their release. Marianne appears in this — I love Marianne. The guy who appears to be falling asleep all the time in this is Brian Jones, who founded the Rolling Stones. I based Peter's — the guitarist/songwriter for Electric Teacup and Estella's love interest in the book — ability to play any instrument he picks up on Brian, who had that talent.

There are so many incredible songs I could add. A few more, like, "Waterloo Sunset" by the Kinks," A Whiter Shade of Pale" by Procol Harum, or "Purple Haze" by Jimi Hendrix.
Don't miss any news - subscribe to our
Facebook