Na Na Na Surprise Teens Samantha Smartie is available for preorder.


Na Na Na Surprise Teens are brand new Na Na Na Surprise 11" fashion dolls with removable hats and cool fashions.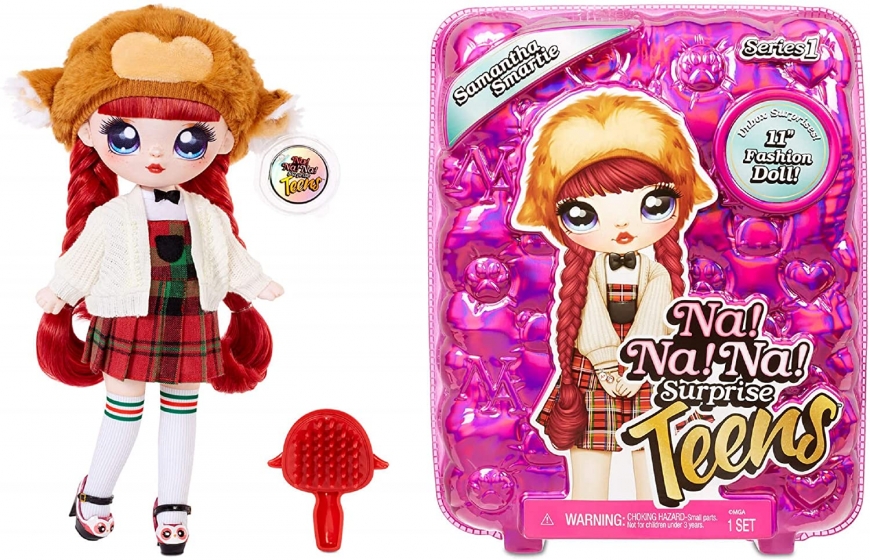 SOFT 11" TEEN FASHION DOLL: Gorgeous, soft, 11" fashion doll Samantha Smartie with long, red hair, printed face and clothing details.
INCREDIBLE UNBOXING EXPERIENCE: Open the package to find the gorgeous doll inside. Then pop the balloons to reveal all her accessories. It makes a perfect gift.
FANCY & CUTE: Each Teens fashion doll has style inspired by her favorite animal. Samantha Smartie's look is inspired by an owl. She has a fuzzy owl hat, plaid outfit and cute, owl Mary Jane heels. Excellent gift for getting good grades, birthday, Thanksgiving Day, Christmas and any special occasion.
MEET SAMANTHA SMARTIE: Samantha Smartie is smart, get over it. She has cute, schoolgirl style with plaid dress and sweater. Printed details include knee high white socks with red and green stripes on top.
Don't miss any news - subscribe to our
Facebook