Rainbow High dolls are getting bigger. To be exact, so far only one of them. And, of course, only for the special release. Meet new version of Amaya Raine doll as Rainbow High My Size doll. This is big fully articulated 24 Inch (61 cm) version of Amaya.
She comes with super long hair and 2 Mix & Match outfits.


Doll is on sale now for $30






Doll's clothes. All buttons are real ones and they really works.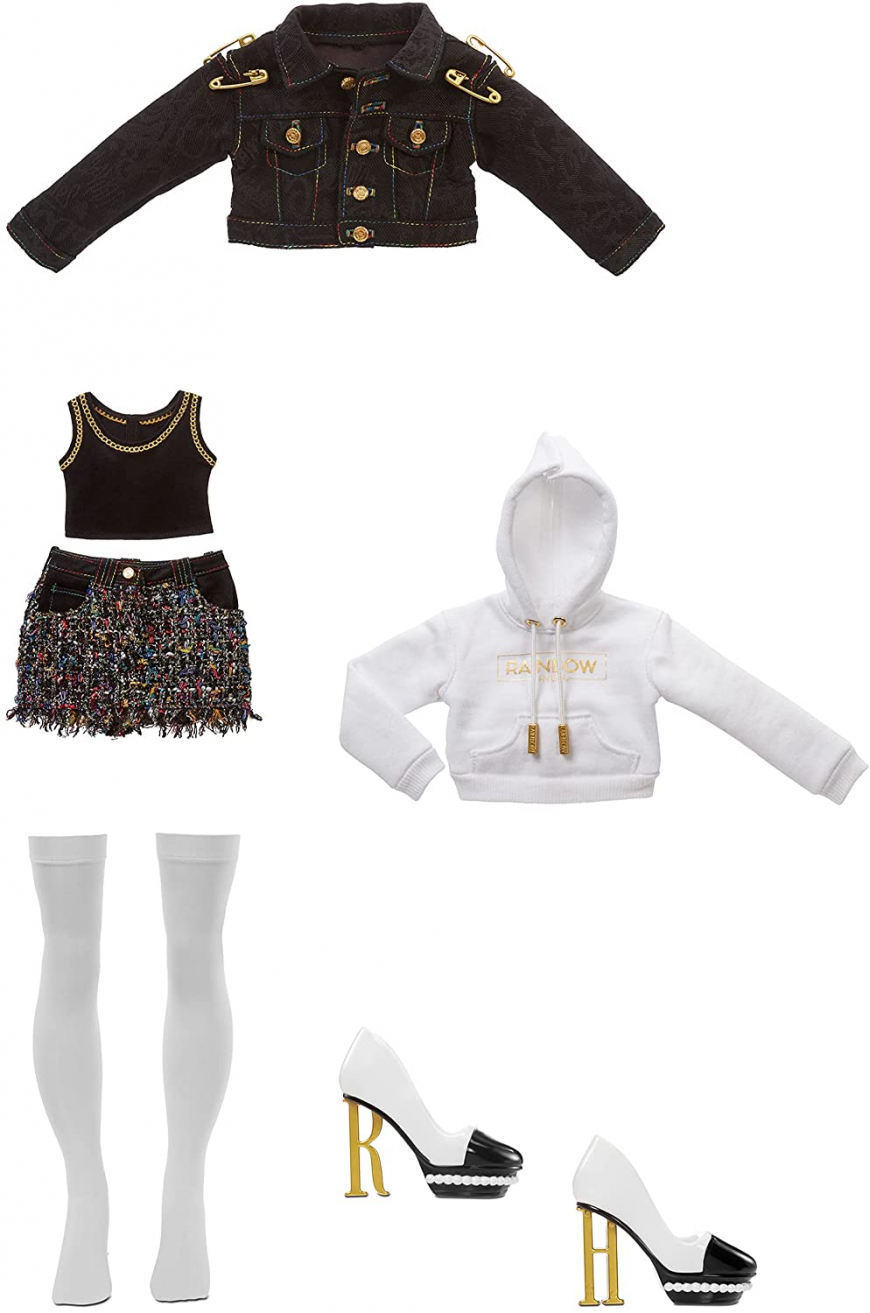 Unboxing video


Price: $79.99
Release date: October 2021

BEAUTIFUL 24 INCH FASHION DOLL: The Rainbow High Large Doll brings one of your favorite Rainbow High Fashion Dolls, Amaya Raine to an all-new size! The Rainbow High 24-inch Large Doll is simply gorgeous with 17-points of articulation, you can create the most fashionable poses. Accessorize yourself & your doll with glamourous matching jewelry pieces! A must-add to every doll collector's collection.

BOLD RAINBOW FASHION: Amaya loves creating her own bold fashion designs, this is one of her original looks. Her fashion pieces have incredible detail, working buttons and zippers, and the heels of her stilettos are in the shape of an "R" and "H." She comes with a black jean jacket, white hoodie with Rainbow High screen printed on it, tank top, skirt, knee high socks and more.

STYLE HER COLORFUL LONG HAIR: Amaya's 14-inch hair is as stunning as her outfits; she has long, brushable rainbow colored hair and comes with doll hair comb and bobby pins so you can create endless stylish hair looks. When first unboxing doll, if you want to brush it, wash her hair thoroughly to remove styling gel and let hair dry completely. Then, her hair is ready to brush and style.
WEAR AND SHARE ACCESSORIES: Accessorize yourself & Amaya with her fashionable belt with charms that doubles as a necklace for you! She also comes with matching accessories for you and for her.

WHAT'S INCLUDED: Large Fashion Doll (24-inches), complete one-of-a-kind large doll outfit, pair of trendy doll shoes, doll purse, doll ring, doll earrings, doll bracelet, doll bangle and fashionable fashion accessories for you 1 bracelet, 1 bangle and 1 ring. She also comes with 5 silver bobby pins, 5 gold bobby pins and doll hair comb.

Update with first in real life details:

Subscribe if you want to be informed when Rainbow High My Size doll Amaya Raine will be released
Facebook