Introducing "Art of Fashion" Designer Collector Limited Edition Doll featuring Jett Dawson a fashion major at Rainbow High, standing next to her first couture fashion design. A must-add to every doll collector's collection. Rainbow High Collector Doll Jett Dawson comes with 2 Premium one-of-a-kind doll outfits, 2 pairs of trendy shoes with 2 clear fashion trunks to store shoes and accessories.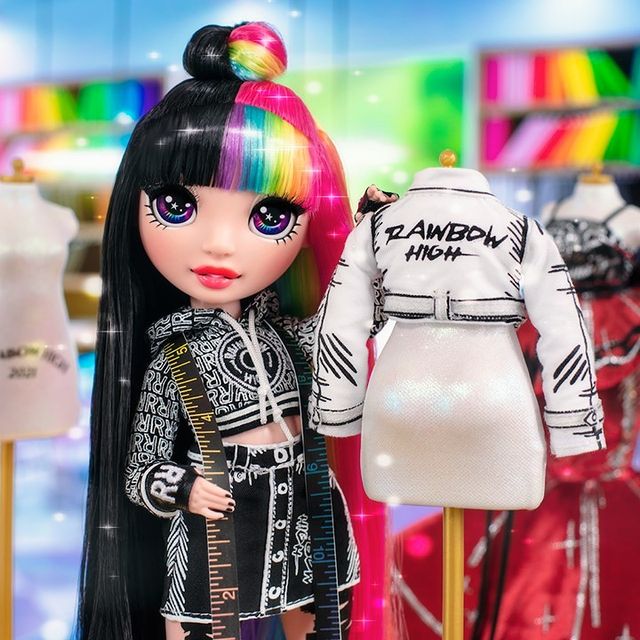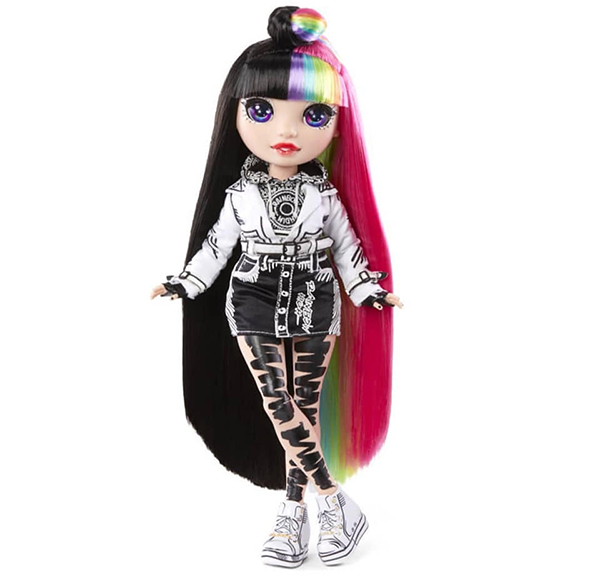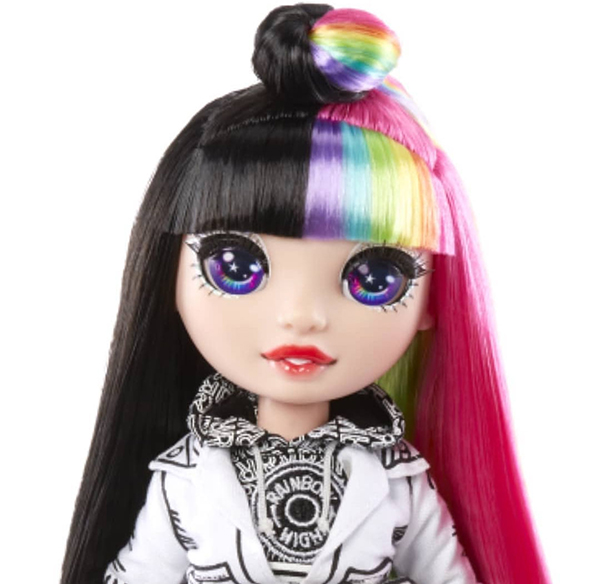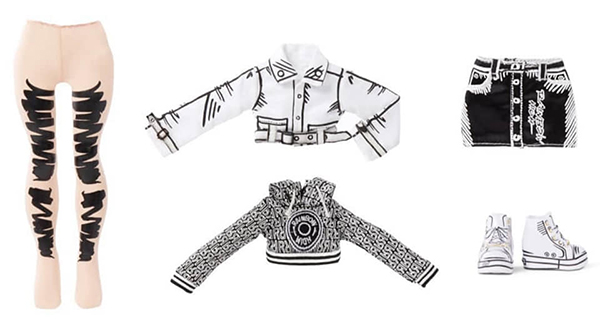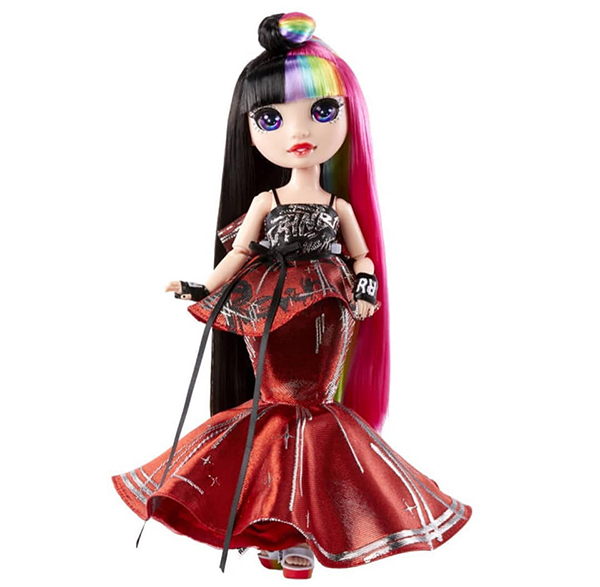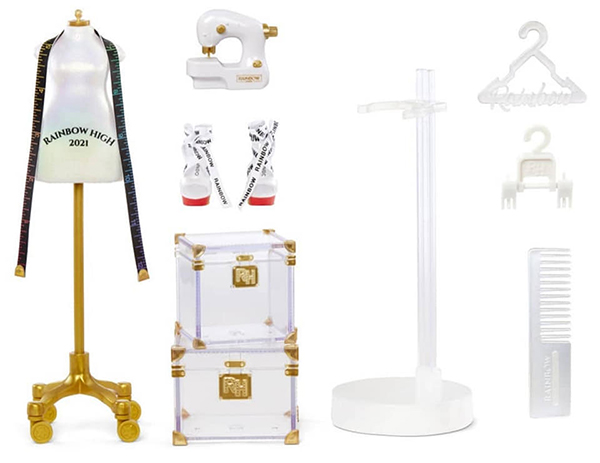 Price: $54.99
Release date: July 2021

The first outfit is her fashion croquis inspired everyday wearable outfit with screen printed Black Cropped Hooded Sweater, a White Denim Jacket, fitted Brocade Black Skirt and Sheer Stretch Tights Printed with Black Sketch lines and finished with Black Stretch Gloves. The second outfit is a Breath-Taking "Art of Fashion" Designer dress-form wrapped in fabric commemorating 2021, the year of release.

The Brocade Red Silk Mermaid Style Gown has Metallic Silver and Black graffiti elements woven into the fabric with added sparkle touches. Beneath the flare of her skirt is a black to red ombre georgette lining creating an eye-catching display on the hanger. Her premium heels have designer satin ribbon to tie around her ankle in beautiful bows and sculpted R and H in metallic gold for a premium touch.

She also comes with premium collector fashion accessories that work, like a Mini Sewing Machine featuring moveable pieces like a spin dial that mimics a real sewing machine; the needle even moves up and down, a Mannequin that you can roll around, and to measure fabric, she comes with her Mini Measuring Tape. Her extra-long hair is as stunning as her outfits; she has long, brushable trend-setting half black and half rainbow hair.

The Limited Edition Packaging is a Trunk like package. It has three tabs at the top to unlock the "lid" then you can easily remove the insert to release the doll, the dress and the rest of the accessories. It has molded corner pieces on each corner to really give that real trunk like look. It has a special hangtag with collector edition number on it along with a real molded wax seal with the RH embossed on it.

MGA teased new special edition doll - Rainbow High Jett Dawson. You can find this teaser in video below. This is official Rainbow High Vlog that was posted on January 31.
Update: Jett Dawson is confirmed to be new Rainbow High collector doll. Find more details about it here: Rainbow High Collector Edition Jett Dawson doll 2021


From what we can see this girl has only part of her hair colored in rainbow, and she she wears black and white clothes. With such design Jett Dawson could be the doll that will come with Rainbow High Chamber playset.

This could be a hint to the release date of Rainbow High Jett Dawson doll. It is likely that it will be released in June 2021.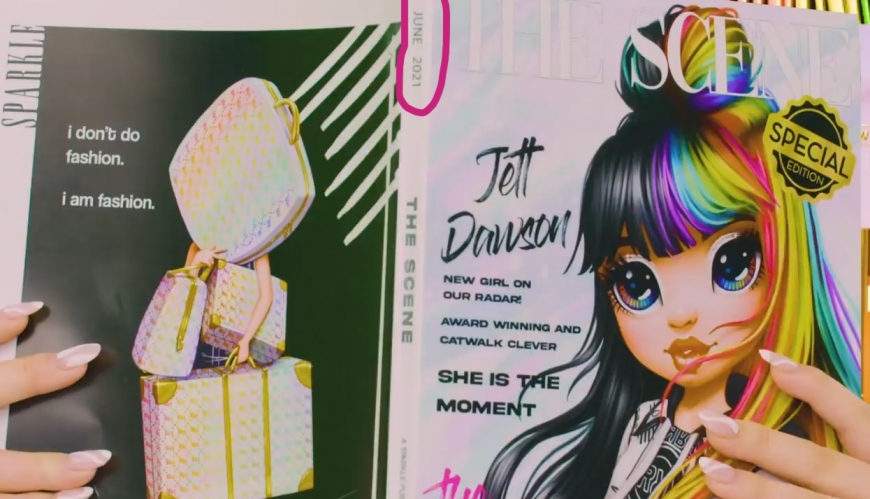 Rainbow High Vlog with Jett Dawson teaser


Unboxing:

Subscribe if you want to be informed when new Rainbow High dolls and toys will be released
Facebook