Ravensburger has revealed how to play Disney Lorcana, the trading card game (TCG) which it is billing as the most anticipated new game of 2023.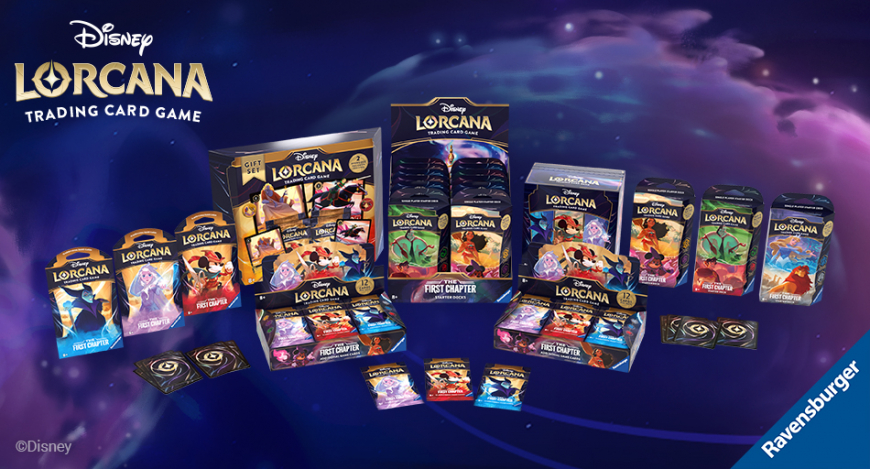 Collectible trading card game transports two or more players to the magical realm of Lorcana. Here, players become Illumineers and wield magic ink to summon a team of Disney characters known as glimmers, which appear in both familiar and reimagined forms.
Players embark on a search for lost lore with their teams of glimmers. They'll play characters, actions and items from their hand and choose whether to 'quest' for lore with their glimmers or challenge their opponents. The first player to collect 20 lore wins. For more details about how to play Disney Lorcana, visit DisneyLorcana.com.
Disney Lorcana: The First Chapter, coming to your table August 2023.
Set 1 will be on shelves this August 18 in specialty/hobby stores, followed by a full mass-market retail launch as of September 1.
IGN confirms Disney Lorcana will be available in the US, Canada, France, Germany, and the UK. However, it's not yet clear when the first chapter will release outside of the United States.
As for Set 2, that'll be coming a little later, on November 17 for specialty/hobby stores, and December 1 at mass-market retail.

Art of Disney Lorcana game:



Disney Lorcana ink colours. Each of the colours is linked to different cards in the TCG.
Here are the six official ink colours in Disney Lorcana:

Amber
Amethyst
Emerald
Ruby
Sapphire
Steel
Amethyst glimmers apparently rely on enchantments, while Sapphire glimmers are fond of using tools (though without knowing what 'tools' and 'enchantments' are, this doesn't tell us much). Ruby glimmers "often leap without looking", while Emerald glimmers are highly flexible. Steel glimmers focus on brute force, and Amber glimmers instead prioritise defence.
Facebook