The Legend of Zelda: Tears of the Kingdom is a brand new game in The Legend of Zelda series, that will be released on Nintendo Switch on May 12, 2023. In addition to the regular version, a collector's edition will also be released.
This Collector's Edition comes with the game software, a SteelBook game case, an ICONART poster, a pin set, and a hardcover art book.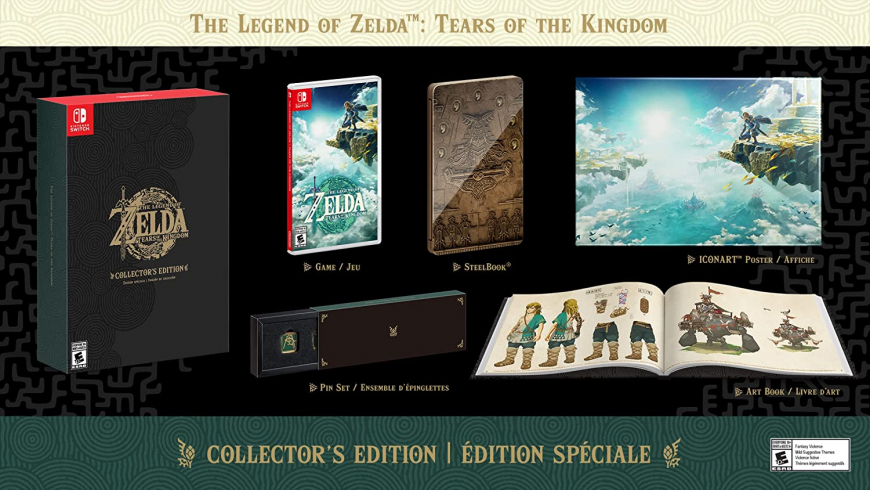 Release date for Collector's Edition is also May 12, 2023





The Legend of Zelda is a popular video game franchise developed and published by Nintendo, featuring a hero named Link who embarks on adventures to save the land of Hyrule and Princess Zelda from various villains.

There have been many official titles in the series since it was first introduced in 1986, including The Legend of Zelda, A Link to the Past, Ocarina of Time, Majora's Mask, Wind Waker, Twilight Princess, and Breath of the Wild. Each game has its own unique storyline, characters, and gameplay mechanics.

The Legend of Zelda: Tears of the Kingdom gonna get new unique and very interesting game mechanics.

The Legend of Zelda: Tears of the Kingdom Gameplay Demonstration


One question many fans were concerned about was, how, does Link get into the sky in The Legend of Zelda: Tears of the Kingdom? Well, apparently the answer is Recall. Link will occasionally find large stones falling from the sky in the world. Players can use the Return ability to undo the object's action. Therefore, by using it on a rock, Link can return to the celestial island from where it fell.
Combat also promises to look very different because of the Fuse ability. In the new game, Link can take a weapon and augment it with another piece of material to change the way it functions. One major example of this is fusing a tree branch with a stone to create a makeshift hammer. Another application of this would be to use the Monster Eye on an arrow to create a homing arrow.
Fuse's Ultrahand ability seems to have reached a new level. Instead of weapons, Link can use materials found in his environment to create new modes of transportation. The gameplay trailer showed a raft with two fans. Link can also create planes that can transport him around Hyrule.
Facebook