With one hundred percent confidence, we can say that fans of Rainbow High dolls are dreaming of fashion packs for their Rainbow High dolls.
Rainbow High dolls are so stylish they need to be dressed up more!

And perhaps their wishes will soon be heard.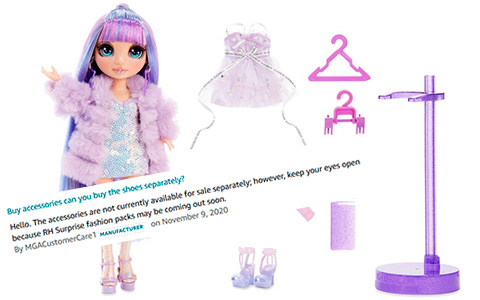 On Amazon page for the Rainbow High Violet Willow doll here: https://amzn.to/3g8wjJY
In the section with Customer questions & answers (scroll down) a question was asked:


-Buy accessories can you buy the shoes separately?


And a very interesting answer to it was given by MGA representatives.


-Hello. The accessories are not currently available for sale separately; however, keep your eyes open because RH Surprise fashion packs may be coming out soon.


So it is very likely that we will soon see Rainbow High fashion packs. We don't know whether they will be Surprise fashion packs or regular fashion packs, because if you look at the name of the doll listing you will see that it is called Rainbow Surprise Rainbow High Violet Willow, so maybe Surprise is just a name.
We will be sure to follow the news and keep you informed.
Subscribe if you want to be informed when Rainbow High fashion packs will be released
Facebook