Here are new just revealed official promo pictures of the new LOL Surprise Lights Pets toys. You can find more information about this collection here: LOL Surprise Lights Masterpost.



L.O.L. Surprise! Lights Pets with Real Hair -

Get it here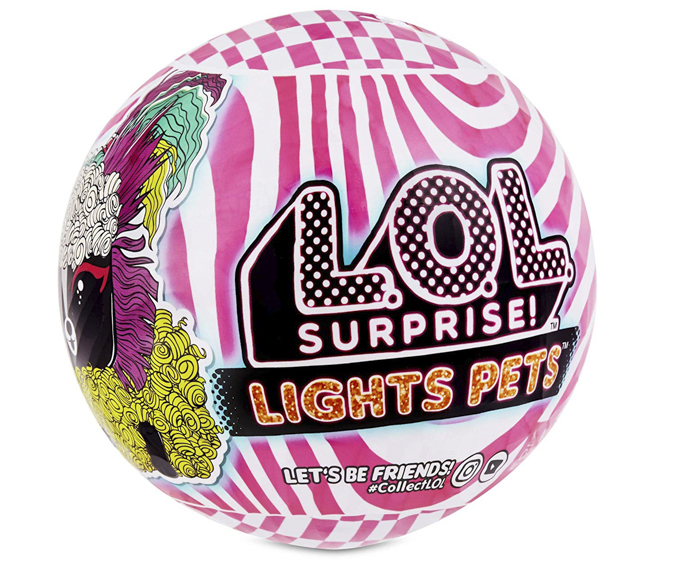 LOL Surprise Lights Pets are the first LOL pets that will have real hair!


L.O.L. Surprise! Lights Pets now have REAL hair in so many fabulous hairstyles. Each L.O.L. Surprise! Lights Pet is covered in extra-long fur. Remove the fur piece by piece to reveal what pet is underneath AND which fierce hairstyle your pet has. Extra-long fur can be stuck back on to create so many styles! Mix & match extra-long fur with other Lights Pets.





Black Light Surprises


Each pet has its own unique blacklight surprise like glowing features, new colors and surprise details. Collect them all to reveal all their surprises.



There are 12 pets to collect: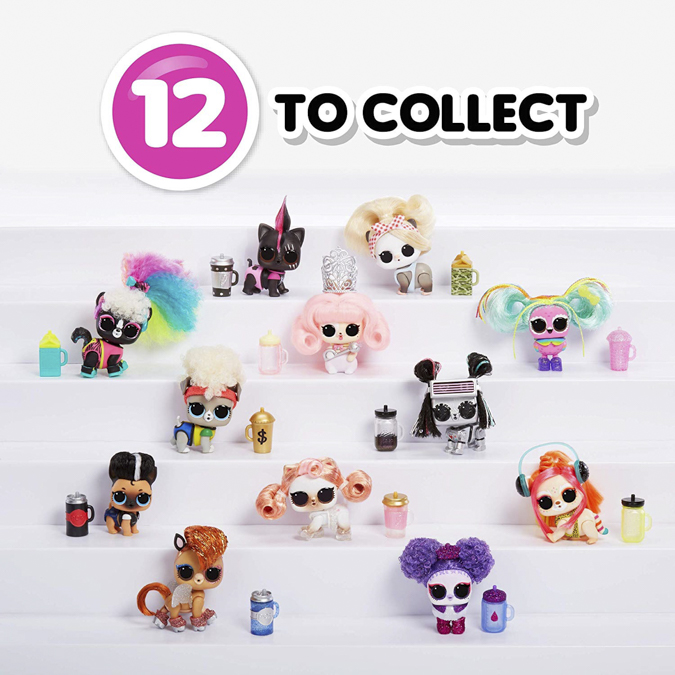 As a part of LOL Surprise Lights collection LOL Surprise Lights Pets glow under black light.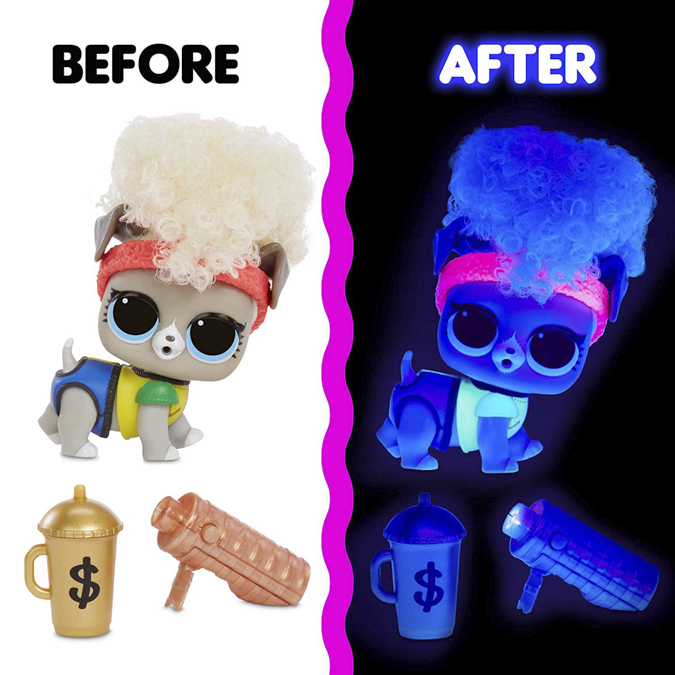 There are 9 surprises LOL Surprise Lights pets ball: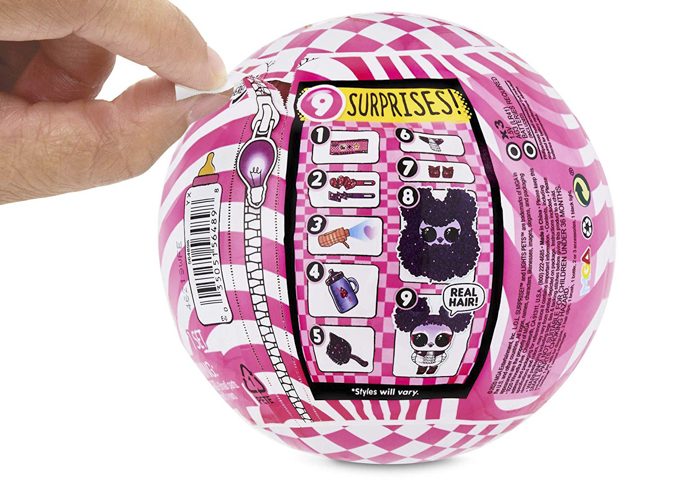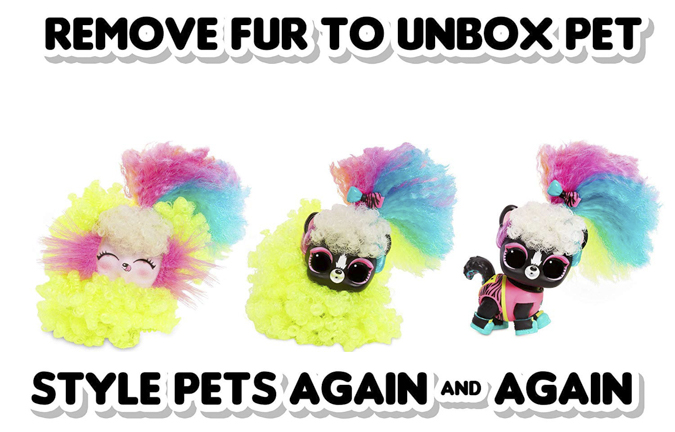 Get ready to glow with L.O.L. Surprise! Lights Pets, now with black light surprises. Each pet has real hair and comes with a black light that you can shine on your pet to reveal surprises. 9 Surprises: (1) Secret Message; (2) Hair Clips; (3) Black Light; (4) Bottle; (5) Brush; (6-7) Fashion Accessories; (8) Extra-long fur to unbox; (9) L.O.L. Surprise! Lights Pet with REAL hair!

Neon Display Ball:
Each L.O.L. Surprise! Lights Pets doll comes in a new neon display ball. Place your pet inside and against the black side of the ball to make black light surprises more visible. Shine the black light on the ball and see it glow neon around the edges.

Unbox Extra-Long Fur:
Each pet comes covered in extra-long fur that you can peel away to unbox your pet. Not all the fur will come off, because some of it is your pet's REAL hairstyle.

LOL Surprise Lights Pets checklist: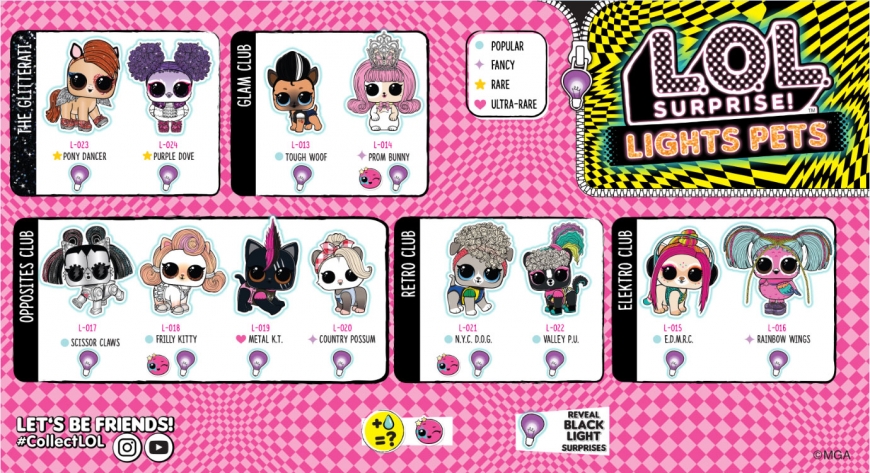 Unbox all new adorable pet characters like Valley P.U., Robo Kitty, N.Y.C. Doggie and more! Each pet comes with a black light to reveal surprises, as well as cute accessories & a bottle. Some pets color change when bathed in water.

Release date:
LOL Surprise Lights Pets release date is January 25, 2020. On this date they will be out for preorder.
You can buy LOL Surprise Lights Pets here: https://amzn.to/2uzTGrP

Price:
Official recommended retail price for L.O.L. Surprise! Lights Pets is $12.99
Facebook