Update! Next Monster High Skullector doll will be - Monster High Skullector Greta, you can read about her here.

In 2022 Monster High franchise will come to life and return to its fans with new collections of dolls, and re-release of the the original Monster High dolls for collectors in 2021. (Perhaps Mattel's plans have changed, because the replicas were originally supposed to come out before the new collector dolls.)
The theme of the new collectible dolls of 2021 will be the Beetlejuice movie!
Dolls been sold out on Mattelcreations website and now you can get them only on Ebay https://ebay.us/iXvFF8. We will inform you if dolls become available from Amazon or any other retailer.



Monster High Skullector Beetlejuice 2 pack


Each doll features gore-geous details including signature outfits, accessories, and a few hidden surprises.
Moanica's sculpt was used for Beetlejuice and Vandala's sculpt for Lydia.

The makers of Monster High introduce Beetlejuice and Lydia Deetz  Skullector dolls, inspired by award-winning 1988 horror-comedy film Beetlejuice. Bring the haunting display to life with details inspired by the strange and unusual duo, including Beetlejuice doll's frightfully fun carousel hat and a miniature replica of the Handbook for the Recently Deceased.  With premium packaging that sets the scene at the tombstone of everyone's favorite bio-exorcist, this collectible Beetlejuice Skullector doll two-pack makes the perfect gift for fans and collectors.

Both fully posable dolls in this to die-for two-pack feature film-inspired fashions -- like Beetlejuice doll's iconic striped suit and Lydia doll's goth-tastic black dress -- with a scary-cool Monster High twist.

Film-inspired accessories include Beetlejuice doll's carousel hat, Lydia's camera and a miniature replica of the Handbook for the Recently Deceased.
Each doll in this frightful duo features 11 points of articulation for killer posing possibilities.
Includes Beetlejuice Monster High Collector doll wearing fashion, hat, shoes and accessories, Lydia Deetz Monster High Collector doll wearing fashion, hat, shoes and accessories, 1 handbook accessory, 1 camera accessory and 2 doll stands.
Dolls measure 10in to 12in tall.

Promo images:


SKU: GWF82
Mind there will be Limit 2 Per user.


Update about release, official media states that dolls will be release only on Mattelcreations website (August 13, 2021 9am PT ).
This link will go alive on August 13!
But don't give up ahead of time, on the day of the sale be sure to log on to the site in advance. We wish you good luck in chance to get them!
And some good news! More Monster High Collector dolls coming in 2021!




The ghost with the most and gore-geous girl, Lydia feature to-die-for details, from signature outfits and accessories to a few hidden surprises.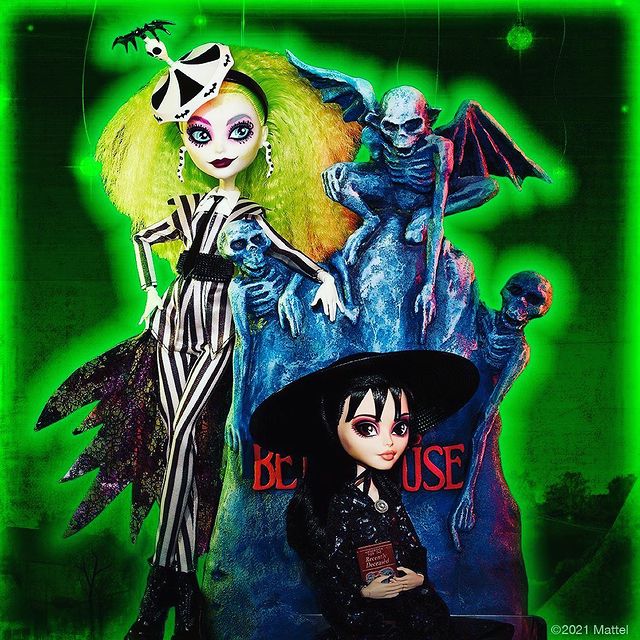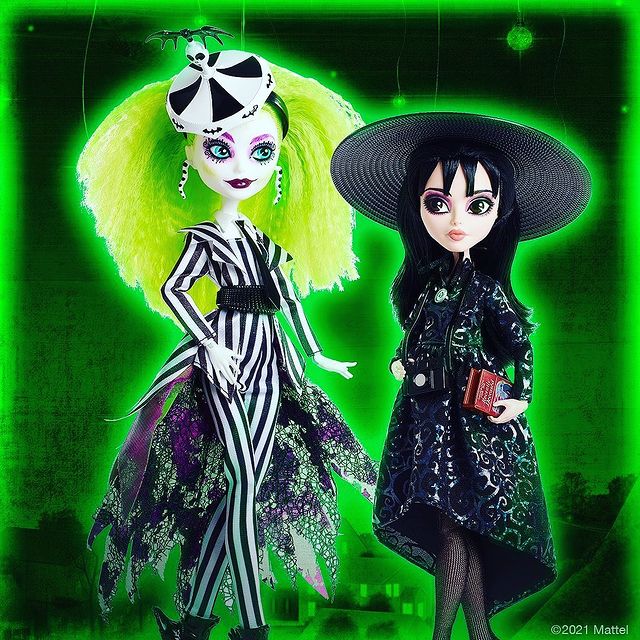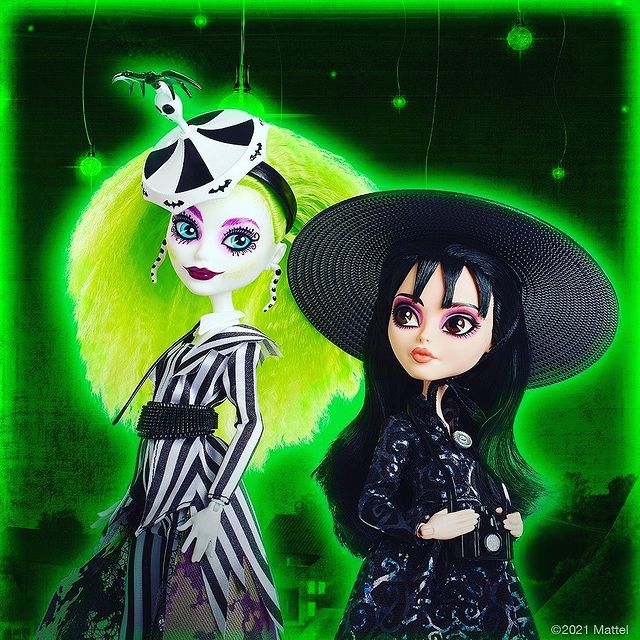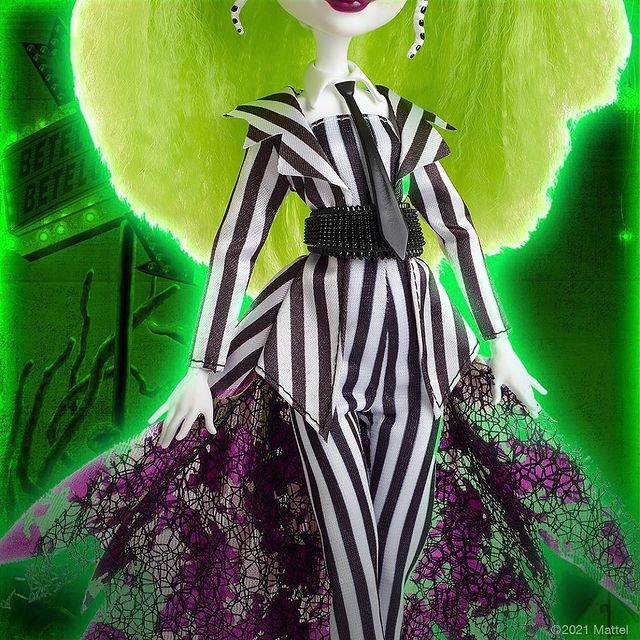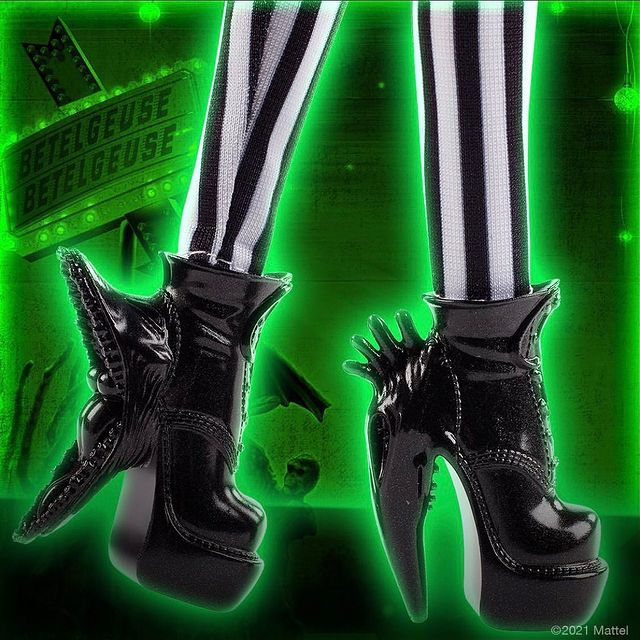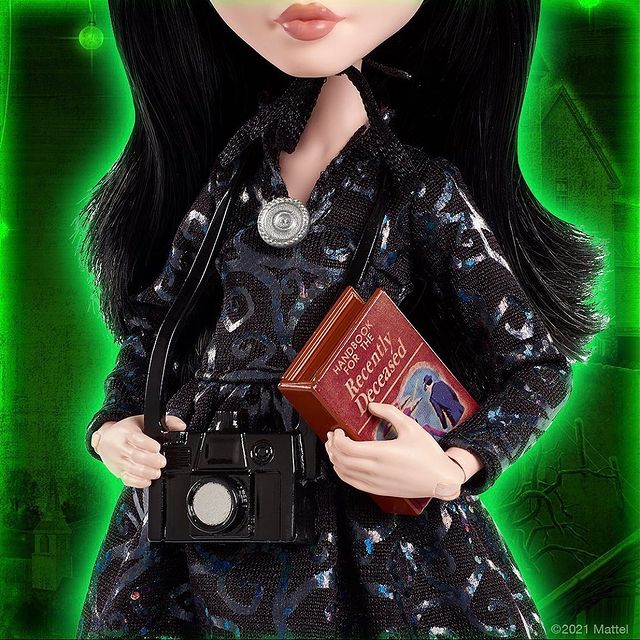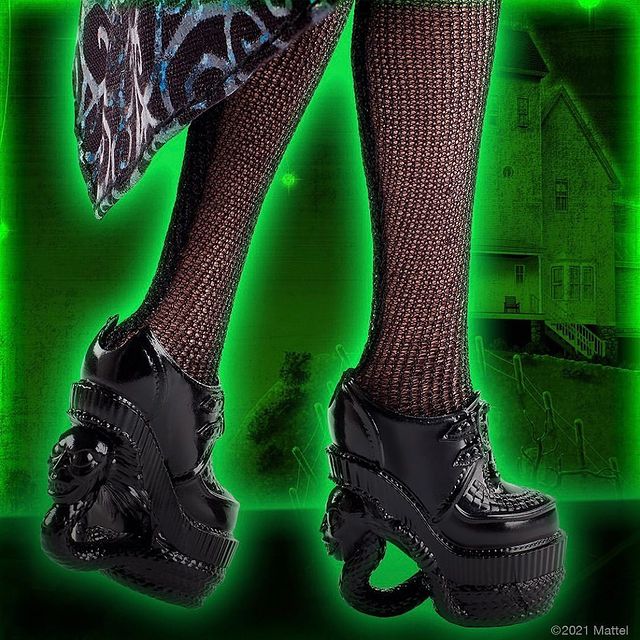 Dolls in box


In real life pictures: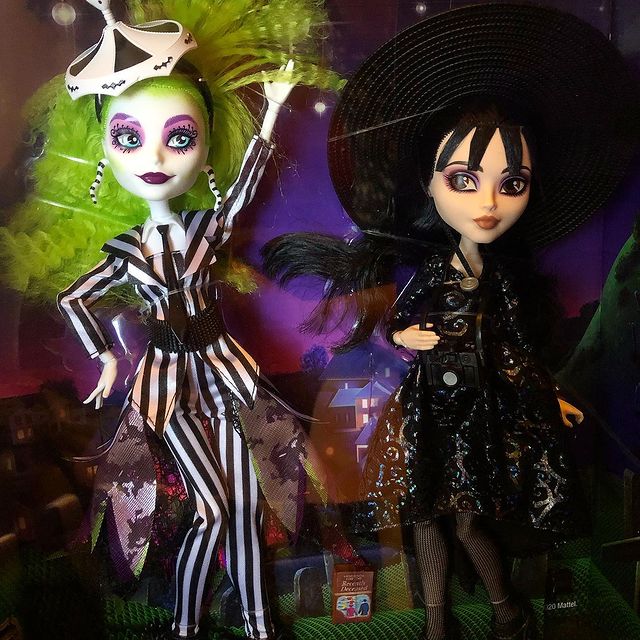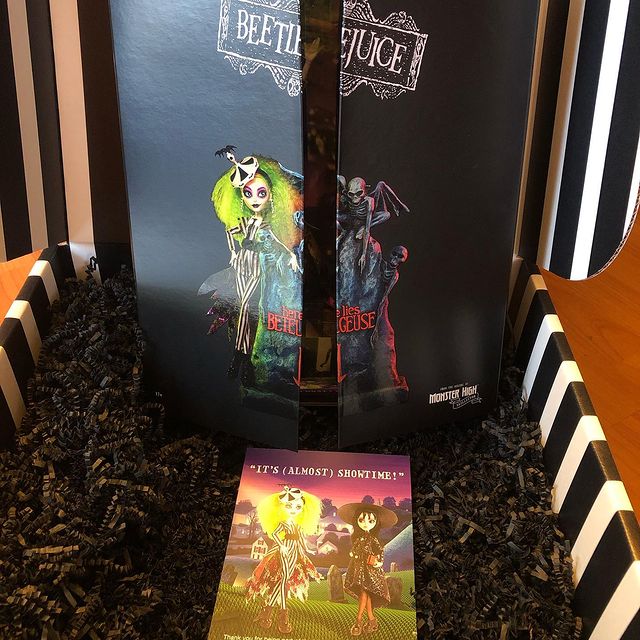 From thedollcircle

Dolls are designed by @rebecula13.

Dolls come as set and the regular price is $90.00.
Monster High Collectors Beetlejuice dolls release date is August 13, 2021 9am PT on Mattelcreations (Yeah, they'll probably sell out again in seconds. Get ready in advance!)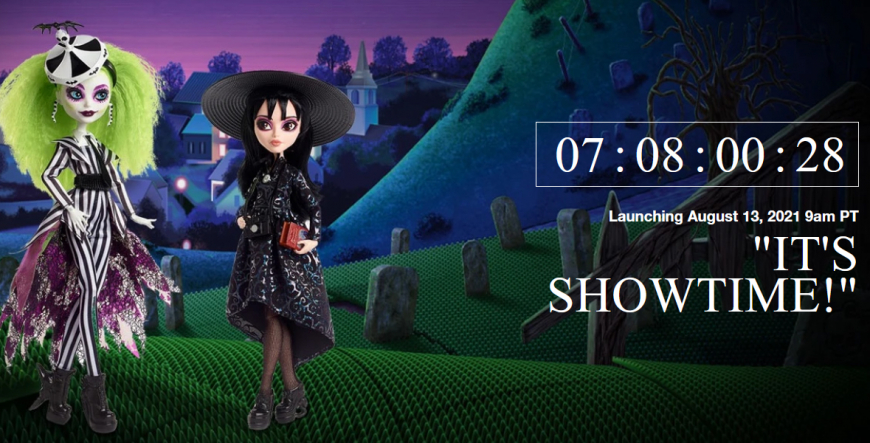 These Skullector dolls combine the worlds of Monster High and actual monsters from our favorite movies! Not to mention, they also make for a haunting display and the perfect gift for fans and collectors.

What does this particular drop mean to you?
It means a lot. I can't wait for fans to freak out over these dolls. That BIG Acid Green Hair. The black and white striped suit. Lydia's adorbs hat. And the shoes! Our sculptor killed it with those heels. GORE-geous and so exciting!



Unboxing:


_ _ _ _ _ _ information released earlier
Update: Confirmation of the upcoming new Monster High Collectors dolls from Mattel Creations site:
Seems like we will get a new brand like Barbie Signature - the Monster High Collectors


The photo shows the original MH dolls, promo photos of new 2021 dolls are not yet available.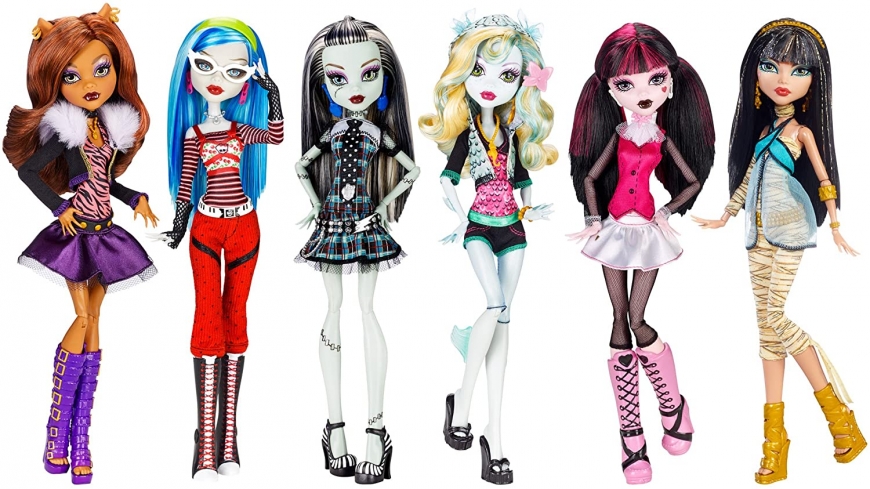 Below we quote Lisa McKnight from a recent Mattel's presentation for investors.


With its inclusive message of belonging, Monster High is more timely and more relevant than ever. We're targeting a whole new generation of kids, plus building on the existing fan base who grew up with Monster High. We teased a comeback late last year with a high-end, highly curated collection for Mattel Creations that sold out in just two minutes.
And this year, you'll see even more amazing horror dolls including high-end replicas of the original Monster High dolls dialed way up for collectors. Then the brand kicks into high gear, with new content, lifestyle product and fashion dolls for every fan, in 2022. So yes, school is back in session!


The last phrase is also very important. Not only new Monster High doll collections are waiting for us in 2022, but also other products with Monster High characters!
Release date: Presumably fall 2021
Price: TBA

The news will be updated as information becomes available.
Subscribe if you want to be informed when Monster High collector dolls 2021 will be released
Facebook